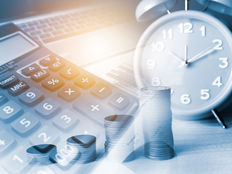 With fixed-income ETFs attracting large inflows year-to-date, Tim Urbanowicz, Invesco's Senior Fixed Income ETF Strategist spoke with ETF Database on the state of fixed income, where investors should be looking, and its BulletShares ETF suite.
As Urbanowicz explains, the market environment on the fixed income side has proven to be a challenge over the past few months for investors. Global yields show this, along with the average for non-sovereign US dollar-denominated debt and non-USB investment-grade debt. Plus, the 10-year in the US is nearing an all-time low.

---
Content continues below advertisement
"We have seen a bit of a disconnect between the Treasury market and the credit market," Urbanowicz said. "Despite that risk-off move that you've seen in Treasury, we've seen corporate credit spreads remain fairly tight."
So, generating the required yield has certainly been challenging for investors. However, the environment will likely go on to create opportunities for investors when looking at fixed-income ETFs.
IG Corporate Land Demand
"In particular, one of the areas we're talking a lot right now about to clients is the investment-grade corporate landscape. We see a number of different factors that support demand there," Urbanowicz continues.
That's not just a matter of buying broad exposure to IG, but getting more targeted and specific with the defined maturity or BulletShares ETFs approach to select spots on the yield curve.
Related: Finding Value in Investment-Grade Bond ETFs
BulletShares provide access to the investment-grade credit market and allow them to choose their spots on the yield curve selectively. Most importantly, investment-grade corporate BulletShares can be a powerful tool for investors, no matter where interest rates go next.
By holding bonds to their final maturity, BulletShares ETFs may moderate the power interest rate changes could have over long-run returns, and allow investors to keep focused on their starting yield.
This article originally appeared on ETFTrends.com