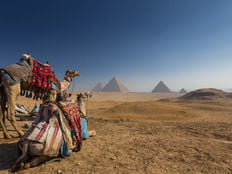 The Egypt country-specific ETF plummeted Monday, following one of the Egyptian markets' worst days since 2016, after protests broke out in several cities over the weekend.
The VanEck Vectors Egypt Index ETF (EGPT C) declined 6.2% on Monday and broke below both its short- and long-term trendlines at the 50- and 200-day simple moving averages.
Weekend demonstrations against President Abdel-Fattah El-Sisi's government broke out across a number of cities and towns, evoking memories of the years of instability following the 2011 uprising that ousted Hosni Mubarak, Bloomberg reports.
The "protest risk is not trivial," Hasnain Malik, global head of equity research at Tellimer Markets Inc., said in a note. It's especially precarious due to the "significant foreign capital parked in local-currency bonds, an exchange-rate that's no longer cheap on a real effective exchange-rate basis and the near-universally positive view of foreign investors on Egypt equities."
Erupting Protests
The protests erupted in response to online calls for a demonstration against government corruption, Reuters reports.
The unrest also comes days ahead of the central bank's scheduled monetary policy decision where economists project a 125 basis point cut to the deposit rate.
"Should political uncertainties rise, the negative impact on Egyptian risk assets could be more sustained," Goldman Sachs analyst Farouk Soussa said. "In such an environment, we believe the central bank may see cause to hold rates on Thursday."
Sunday's slump "took the analyst community by surprise, no one looked at those protests that seriously," Naeem Brokerage analyst Allen Sandeep said.
Related: High-Flying Egypt ETF Up 20% Year-to-Date
The selling pressure snowballed after Arab investors dumped positions, which led to margin calls being triggered, "and then locals also had to join. So you had a whole herd of investors selling," Sandeep added.
FXTM's Jameel Ahmad also noted that the steep selling was was "really strange" since country was seen until recently "as a bright spark in 2019 for the region." Investors may have taken the protests as a catalyst to take profits.
This article originally appeared on ETFTrends.com
---
Content continues below advertisement