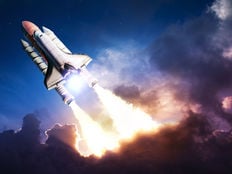 ETF issuer GraniteShares launched a new ETF on Monday that aims to exclude US large cap companies likely to suffer from long term technological disruption.
The GraniteShares XOUT US Large Cap ETF (XOUT), which is in collaboration with XOUT Capital LLC, will track the XOUT US Large Cap Index, which uses a proprietary quantitative rules-based methodology to identify which U.S. Large Cap companies among the largest 500 to exclude or "XOUT" from the Index.
According to the press release, XOUT's methodology goes in opposition to traditional investment strategies. Instead of attempting to pick a few possible winners, XOUT flips the investment paradigm by avoiding losers failing to adapt amid today's environment of unparalleled technological change.
As investors must evaluate which companies in their portfolio are most likely to be disrupted when it comes to technological innovation, XOUT takes the 500 largest US companies and excludes the 250 names deemed most at risk. Additionally, XOUT seeks to take advantage of passive investing's most significant flaw – buying every company in an index, even those in long-term secular decline.
Discovering Disruption
"Disruption is one of the most significant, forward-facing risks impacting investors and companies today," said David Barse, Founder and CEO of XOUT Capital. "The XOUT approach is simple – look to cut out the losers, and you're left with a portfolio that may be better positioned to outpace the broader market. Having spent most of my career in the asset management industry trying to build portfolios of winners, I now know it may be much easier to simply exclude losers."
Thanks to a properly established framework, XOUT analyzes various characteristics, including revenue and employee growth, reinvestment in company stock, research and development, management performance and profitability, and earnings sentiment. Analysis of these factors can help determine which companies face the highest risk of disruption. Additionally, constituents of the Index are re-evaluated quarterly.
Related: Avantis Launches Suite of Low-Cost ETFs
"GraniteShares is thrilled to partner with David Barse and XOUT Capital on this unique investment idea," said Will Rhind, Founder, and CEO of GraniteShares. "A first-of-its-kind ETF, XOUT firmly aligns with our mission of offering innovative investment solutions that challenge conventional thinking. With XOUT, more important than what you put in your portfolio is what you leave out."
XOUT will join the ever-expanding GraniteShares ETF suite, which also features a low-cost physical gold and platinum ETFs (BAR A-) and (PLTM C+), two broad-based commodity ETFs (COMB ) and (COMG ), and a high alternative income-focused fund that invests in pass-through securities (HIPS B). The XOUT fund has an expense ratio of 0.60% and will trade on the NYSE Arca.
This article originally appeared on ETFTrends.com
---
Content continues below advertisement