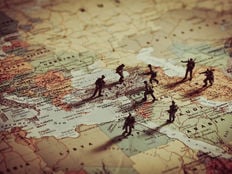 The Turkey country-specific ETF plummeted Monday after Ankara announced an "air and ground military operation" into Syria and President Donald Trump threatened to "totally destroy and obliterate" Turkey's economy if it took action considered to be "off-limits."
The iShares MSCI Turkey ETF (TUR A-) declined 4.2%, breaking below its short-term support at the 50-day simple moving average.
President Recep Tayyip Erdogan has said Turkey will undergo an "air and ground military operation" east of the Euphrates River, Aljazeera reports.
The operation aims to clear what Turkey considers "terrorists" from the border region.
"We will conduct this [operation]on the ground and in the air," Erdogan said at the opening of his AK Party's annual camp, adding it would be in the east of the Euphrates River. "We have made our preparations, we have completed our operation plans, given the necessary instructions."
President Trump, though, cautioned Turkey from taking things too far, threatening retaliatory action.
"As I have stated strongly before, and just to reiterate, if Turkey does anything that I, in my great and unmatched wisdom, consider to be off limits, I will totally destroy and obliterate the Economy of Turkey (I've done before!)" Trump said in a tweet.
The White House has decided to withdraw American forces from northeastern Syria, following Ankara's announcement, Reuters reports.
"Turkey will soon be moving forward with its long-planned operation into Northern Syria," a White House statement late Sunday said. "The United States Armed Forces will not support or be involved in the operation, and United States forces, having defeated the ISIS territorial 'Caliphate,' will no longer be in the immediate area."
The lira currency and Turkish markets weakened in response to the geopolitical uncertainty and risks associated with a full-blown war, along with the threatening comments to the Turkish economy.
Investors are worried of another point of dispute between the U.S. and Turkey after a diplomatic fallout between the two countries last year triggered a currency crisis that contributed to the country's first recession in a decade.
This article originally appeared on ETFTrends.com
---
Content continues below advertisement