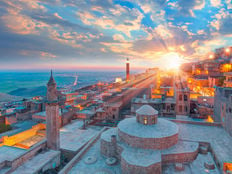 Turkey country-specific ETF could continue to weaken as the country's military actions into Syria persist if U.S. congressional leaders enact sanctions that would further weaken the lira currency and drag on the developing economy.
The iShares MSCI Turkey ETF (TUR A-) was flat Thursday after breaking below its long-term support at the 200-day simple moving average in the previous session.
The lira currency, which previously suffered through a crisis a year ago partly as a result of U.S. sanctions and tariffs, dipped to its weakest level in almost four months after Ankara ordered attacks on Kurdish forces in northeast Syria, Reuters reports. The currency has depreciated 30% last year, and it weakened over 3% this week in volatile trading.
Previously, the lira had been regaining ground with inflation falling back, suggesting that Turkey's economy may have overcome its most difficult period in nearly two decades.
Possible Political Fallout
The Turkish central bank even began interest rate cuts to raise lending and bolster the economy, but market expectations for further cuts have quickly abated on fears of a political fallout from the military actions that would delay the ongoing economic recovery. Observers warned of higher deficits and borrowing costs, along with a slowdown in tourism, if Turkey's military takes longer than expected to achieve its goals.
However, others warn that action from the U.S. Congress could be the biggest threat that many investors are overlooking. Senior U.S. Republicans want to punish Turkey for attacking Syrian Kurds, a key U.S. ally in the battle against the Islamic State in Syria.
"(Broader sanctions) would change the economic picture of Turkey totally and we would have to take into account the possibility of a new recession in a situation where the economy is fragile after the 2018 crisis," Ulrich Leuchtmann, head of FX research at Commerzbank, told Reuters.
Related: Turkey ETF Plunges as Ankara Readies Military Operation in Syria
"The more political pressure comes, the more Trump might be inclined to state that Turkish action might be off limits," he added.
A senior Turkish banker who requested anonymity told Reuters that the weakness so far was a result of the immediate geopolitics surrounding the incursion rather than sanctions, adding that action out of Washington was "the biggest threat".
This article originally appeared on ETFTrends.com
---
Content continues below advertisement