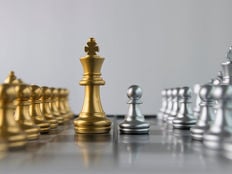 While U.S. markets are hovering near record highs, high net-worth investors are wary of what the future may hold and are getting more defensive. ETF investors can also shift their portfolios into a more defensive posture through sector-specific strategies.
According to a survey conducted by E-Trade Financial, the percentage of affluent investors who anticipate a stock market pullback in the fourth quarter has doubled, CNBC reports.
Around 40% of wealthy investors surveyed by E-Trade are betting on a market drop in the final three months of the year, or double from the 19% of investors in the previous Q3 survey.
"The [third quarter]was a volatile quarter, and what's remarkable about early Q4 is we're knocking on the door of equity market records," Mike Loewengart, vice president of investment strategy at E-Trade, told CNBC. "When I think about where we are in the cycle, coupled with what transpired in Q3, it's not surprising to see investors turning more bearish."
About 28% of the wealthier investors who have turned bearish are expecting a modest drop of no more than 5%.
"But to me it is notable," Loewengart said since that percentage jumped from 12% last quarter.
Additionally, the percentage of millionaire investors who believe the market will end the year with a quarterly gain dipped from 56% to 42%.
"Everyone has turned more bearish overall," Loewengart added.
A More Defensive Stance
In light of the more bearish outlook, these investors are exhibiting a more defensive stance. Specifically, they showed a greater preference for utilities and consumer staples sectors, with a 10% increase in millionaire investors arguing that utilities provide the most potential in Q4, and an 11% increase in investors pointing to staples as the best play.
ETF investors can also gain broad exposure to these market segments through sector-specific strategies. For example, the Utilities Select Sector SPDR (XLU A), Vanguard Utilities ETF (VPU A+), Fidelity MSCI Utilities Index ETF (FUTY ) and iShares U.S. Utilities ETF (IDU B+) are among the most popular utilities sector ETF available.
Also, for those who are looking to get involved with the consumer staples segment, the Vanguard Consumer Staples ETF (VDC A+), Consumer Staples Select Sector SPDR ETF (XLP A) and Fidelity MSCI Consumer Staples ETF (FSTA ) are some options to gain broad exposure this defensive sector.
"They are not pulling out of the market but repositioning into the historically strong defensive sectors," Loewengart said. "That is in response to the heightened market volatility and concerns we are near the end of the economic cycle, and a recession is inevitable."
This article originally appeared on ETFTrends.com
---
Content continues below advertisement