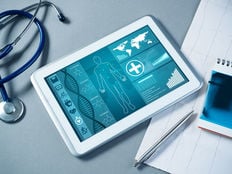 While the healthcare ETFs like the iShares Nasdaq Biotechnology ETF (IBB A-) are pulling back slightly this morning, mainly due to Amgen declining today, despite beating its earnings estimates and raising its full-year guidance, the overall healthcare sector is a top performer for October.
AMGN reported third-quarter 2019 earnings of $3.66 per share, which beat the Zacks Consensus Estimate of $3.51. Earnings fell 1% year over year due to declining revenues and operating profits.
Total revenues of $5.74 billion in the quarter bested the Zacks Consensus Estimate of $5.63 billion. However, total revenues declined 3% year over year.
IBB, which holds AMGN, has a middle of the road expense ratio of 0.47%, but is up over 7.88% month to date and over 11% YTD and has been one of the top performing healthcare ETFs. It seeks to track the investment results of the NASDAQ Biotechnology Index, which contains securities of companies listed on NASDAQ that are classified according to the Industry Classification Benchmark as either biotechnology or pharmaceuticals and that also meet other eligibility criteria determined by Nasdaq, Inc. The fund generally invests at least 90% of its assets in securities of the index and in depository receipts representing securities of the index. It may invest the remainder of its assets in certain futures, options and swap contracts, cash and cash equivalents. It is non-diversified.
Also a top performer this month is the iShares U.S. Healthcare Providers ETF (IHF A-), which seeks to track the investment results of an index composed of U.S. equities in the healthcare providers sector. The healthcare ETF offers exposure to U.S. companies that provide health insurance, diagnostics, and specialized treatment, as well as targeted access to domestic healthcare services stocks, for a 0.43% expense ratio, and is up 9.39% this month and 7.32% YTD.
Healthcare could remain a key player running up to election time, as it is a hotly debated topic due to aging Baby Boomers and cost-cutting efforts by Congress.
According to Investopedia, "The healthcare sector is one of the largest and most complex in the U.S. economy, accounting for close to a fifth of overall gross domestic product (GDP). The U.S. healthcare sector benefits from a strong system of medical research and development, in cooperation with the higher education system and the technology industry. The aging U.S. population and the advancing senescence of the Baby Boomer generation are driving ongoing strong demand in the healthcare sector."
This article originally appeared on ETFTrends.com.
---
Content continues below advertisement