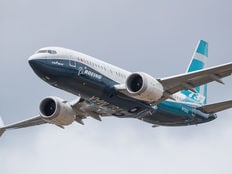 Shares of Boeing (BA) climbed nearly 4% in early afternoon trading, adding more than 94 points to the Dow Jones Industrial Average, after the aerospace company announced on Monday that it expects to resume deliveries of its grounded 737 Max planes as early as next month and that airlines could be able to restart commercial service in January.
Boeing's 737 Max planes have been grounded and under heavy scrutiny since mid-March, after deadly crashes killed almost 350 people in Ethiopia and Indonesia over a five-month time frame.
The company had told suppliers in August that it would resume production on its best-selling 737 jets at a rate of 52 aircraft per month in February 2020 before ramping it up to a record 57 jets monthly in June, Reuters reports. The resumption of 737 production will be contingent on the regulator's approval of the airplane to fly again commercially in the fourth quarter.
"While the assumption reflects Boeing's best estimate at this time, the actual timing of return to service will be determined by the FAA and other global aviation regulatory authorities and could differ from this assumption and estimate," Boeing spokesman Paul Bergman told Reuters over the summer.
The company stymied deliveries of the planes after the global ban earlier this year and slashed production by 20% to 42 a month.
Boeing has since hustled to gain regulatory approval for software fixes it has created for the jetliners after a flight-control program was implicated in both the Indonesia crash in October 2018 and the Ethiopia disaster in March. Pilots in both crashes were fighting the system, known as MCAS, which was activated due to erroneous data from a single sensor.
The aerospace company has recently altered the system to include data from two sensors now and has completed a test of the software with the Federal Aviation Administration in a simulator, Boeing said in an update Monday.
While much work still needs to be done to satisfy regulators, investors championed the news with the iShares U.S. Aerospace & Defense ETF (ITA B+) among the better performers on Monday, gaining nearly 1%.
This article originally appeared on ETFTrends.com.
---
Content continues below advertisement