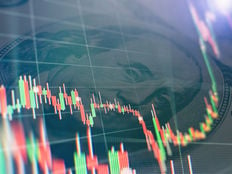 WisdomTree launched an actively-managed bond ETF on Thursday that's positioned to perform in a low-interest rate environment.
The WisdomTree Mortgage Plus Bond Fund (NYSEArca: MTGP) offers investors access to a favorable asset class with attractive income characteristics in a low-interest rate environment strategy linked to consumer and housing markets with a risk-return profile distinct from treasuries and corporates.
MTGP is an actively managed ETF primarily investing in agency residential and commercial mortgage-backed securities while having the flexibility to diversify into other sectors of the securitized debt market. The fund is sub-advised by Voya Investment Management Co., LLC (Voya IM), a well-respected investment manager in securitized debt managing over $31 billion.
WisdomTree's Head of Fixed Income and Currency, Rick Harper, said, "In a continued low-interest rate environment, we believe MTGP may be a compelling strategic option for investors seeking a generally more stable source of income through the types of mortgage-backed securities that have historically exhibited strong liquidity and limited credit risk. With an estimated $8.5 trillion, the market for Agency RMBS is generally considered to be deep and liquid, surpassed by only U.S. Treasuries in terms of size and liquidity. Another $3 trillion in investment opportunities exist in other securitized debt sectors.
The Voya Connection
"We are pleased to be collaborating with Voya IM – a firm that has a long track record in this space – in launching this actively managed ETF and providing investors greater access to these opportunities," Harper continued.
Voya IM's Head of Securitized Debt, David Goodson, said, "Mortgage-backed securities and other types of securitized debt offer a unique diversifier and return opportunity that is sometimes not top of mind for fixed income investors. Given our long-term history in securitized markets, we can help investors navigate some of the complexity of this enormous market to unlock these opportunities."
"One of our motivations for being involved with the ETF was the lack of ETF options to add value through securitized debt. As a portfolio manager benched to the Aggregate, having a fund that could offer excess return potential from a sector comprising nearly 30% of the Aggregate is extremely valuable," Goodson continued.
Strategically, WisdomTree believes many securitized debt sectors remain much earlier in their respective credit cycle than many corporate credit markets and thus do not currently face headwinds of the magnitude typically associated with a late-cycle market. While there exists a correlation between markets, the lack of substantial growth in mortgage securities relative to corporate debt may potentially provide a supportive credit environment for investors and generally attractive valuations.
---
Content continues below advertisement
MTGP: What's Under the Hood?
The WisdomTree Mortgage Plus Bond Fund is an actively managed

ETF

utilizing an investment process combining both macro and fundamental research, which seeks income and capital appreciation through investments in mortgage-related debt and other securitized debt.
The Fund provides exposure to both Agency

RMBS

and Agency

CMBS

, with the ability to further diversify and seek yield-enhancing opportunities through limited allocations to non-Agency

RMBS

, non-Agency

CMBS

, asset-backed securities (

ABS

) and collateralized loan obligations (CLOs).
Cap exposure to non-investment-grade securities at 20% of net assets
Cap exposure to non-agency issuers at 20% of net assets
With this approach, MTGP can enable investors to diversify investments through various credit cycles more broadly. WisdomTree will serve as the Fund's investment adviser, and Voya IM will serve as the Fund's sub-adviser.
This article originally appeared on ETFTrends.com.