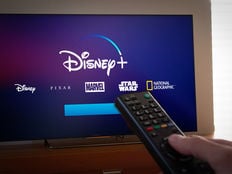 On the launch day for Walt Disney Co.'s Disney+ (DIS) streaming service, the company already appears to be plagued by technical difficulties. Users began reporting issues with the service on Twitter (TWTR) early Tuesday morning, with a plethora of users complaining of a technical error, while others reporting issues with the Disney+ app in Apple's (AAPL) App Store
"The consumer demand for Disney+ has exceeded our highest expectations," a Disney spokesperson said. "While we are pleased by this incredible response, we are aware of the current user issues and are working to swiftly resolve them. We appreciate your patience."
One question that arises with this new launch however, is how many of Disney's new subscribers are leaving a company like Netflix in hopes of fresh and more engaging content.
"I don't see this as a zero sub game right now. There's so many opportunities to basically add people— that it's—we're at the beginning. It's nowhere near taking subs from Netflix or Amazon. It's just growing the market basically," said Michael Nathanson, founding partner at MoffettNathanson on CNBC.
One concern for Netflix (NFLX) is that in a recent survey, a third of consumer claimed they would actually cancel their subscription to make room for a new service such as Disney, within the next several months. This has experts like Nathanson concerned for Netflix's valuation.
"We have a neutral to negative view of Netflix," he explained. "Valuation has always been a concern. When we do survey work we find that a lot of library content is perceived to be valuable by consumers on Netflix right? Now I don't know if it's going to lead to a a turn of that magnitude, but I think the road going forward for all these companies is more challenging than where we've come from. They need to spend more money. They need to have original content. They need to manage churn. They need to work on partnerships that Pretty much discount the product."
One important element in the streaming war is that now many companies are following Netflix and creating their own original content, creating a contest for the most engaging media.
"We are in a world right now of like librarying to yourself: basically self funding and self creating. But the occasional show will find its way over their walled garden right? But yeah you're gonna line up all these companies with their own production facilities and their own platforms, and that's what you're changing too," Nathanson added.
So the question remains, how will Disney stock and associated ETFs fare in the wake of the new service? Nathanson seems to think investors can ride the wave for now.
"I think we're in a bit of a momentum trade for Disney. You know, how many subs? This is the way Netflix has been for 5 to 10 years. We'll worry about making money later. Let's just get some subs. Right? Let's aggregate as fast as we can. We'll worry about the economics like down the road. So Disney is trading on the anticipation of a big opportunity," he said.
Investors seem to agree. Disney is currently up 1.55% as of noon EST, trading at roughly $138.85 per share.
This article originally appeared on ETFTrends.com.
---
Content continues below advertisement