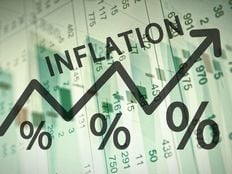 With the Federal Reserve backing a looser monetary policy, bond ETF investors will have to contend with an eventual rise in inflation.
Market measures of inflation expectations have increased in recent weeks after receding fears of a near-term recession and growing preferences for riskier assets, the Wall Street Journal reports.
Based on the spread between the yields of 10-year U.S. government debt and Treasury inflation-protected securities of similar maturity, investors expectations for the average inflation rate over the next 10 years has risen to about 1.7 percentage points, compared to 1.55 percentage points at the end of last month. The so-called 10-year break-even rate also witnessed its largest six-day gain since November 2016 earlier in the week, jumping 17 basis points compared to the end of last month.
Investors now argue that the Federal Reserve's recent move to cut interest rates three times this year have bolstered the outlook on inflation, with some even contending that inflation may rise fast enough to force the Fed to hike rates.
"If we let this run, some inflation will come back," Rob Waldner, chief strategist and head of multisector portfolio management at Invesco, told the WSJ.
According to a recent Bank of America Merrill Lynch survey, nearly one-in-three fund managers anticipate inflation will accelerate in the next 12 months, compared to a near zero expectation in recent months.
Consumer prices in October were 1.8% higher year-over-year and higher than the 1.7% year-over-year increase seen in the previous two months. The consumer-price index was up 0.4% last month, according to the latest Labor Department update.
Bond investors who are worried that rising inflation will eat away at their real yields can look to bond ETF strategies to hedge against the negative effects of inflation. For example, Treasury inflation protected securities-related ETFs, like the iShares TIPS Bond ETF (TIP A-), Vanguard Short-Term Inflation-Protected Securities ETF (VTIP A-) and Invesco PureBetaSM 0-5 Yr US TIPS Portfolio (PBTP B), include exposure to TIPS, which provide protection from inflation since the principal of a TIPS bond rises along with inflation but decreases with deflation as measured by the Consumer Price Index. Furthermore, the fixed interest rate is applied to the adjusted principal, so interest payments rise with inflation and fall with deflation.
This article originally appeared on ETFTrends.com.
---
Content continues below advertisement