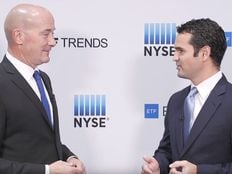 As the ETF universe continues to expand, U.S. markets are seeing greater interest and adoption in smart beta or factor-based ETF strategies.
"I think we're at $228 billion in net flows, but when you unpack that and you look at where the flows are coming from, $80 billion is in the equity category; $60 billion of that $80 billion is in smart beta factor-based ETFs. So, 70% of the equity flows this year are in smart beta ETFs or factor ETFs. We've hit kind of a tipping point here in some ways around smart beta utilization and adoption," John Hoffman, Head of RIA, Private Client Group & Personal Investing Platforms, Invesco US, said at the 2019 Charles Schwab IMPACT conference.
For example, among Invesco's more popular smart beta ETF plays of 2019, the Invesco S&P 500 Low Volatility Portfolio (SPLV A+) attracted $2.4 billion in net inflows, Invesco S&P MidCap Low Volatility ETF (XMLV B+) saw $1.5 billion in inflows and Invesco S&P 500 High Dividend Low Volatility ETF (SPHD C+) added $764 million, according to ETF Database data.
SPLV tracks the S&P 500 Low Volatility Index, which is comprised of the 100 S&P 500 members with the lowest trailing 12-month volatility. While the fund is designed to be sector agnostic, it often features large allocations to utilities, financial services, and real estate stocks. Those sectors currently combine for about two-thirds of SPLV's weight.
XMLV seeks to track the investment results of the S&P MidCap 400 Low Volatility Index. The index provider selects for inclusion in the underlying index the 80 securities that it has determined have the lowest volatility over the past 12 months out of the 400 medium capitalization securities that are contained in the S&P MidCap 400 Index.
Lastly, SPHD seeks to track the investment results (before fees and expenses) of the S&P 500® Low Volatility High Dividend Index (the "underlying index"). The fund generally will invest at least 90% of its total assets in the securities that comprise the underlying index. The index provider compiles, maintains and calculates the underlying index, which is composed of 50 securities in the S&P 500 Index that historically have provided high dividend yields with lower volatility.
Watch the interview between ETF Trends CEO Tom Lydon and John Hoffman at Schwab IMPACT:
---
Content continues below advertisement