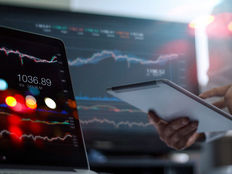 Dividend stocks and ETF strategies can be an important component of a diversified investment portfolio, generating investor returns and growing income over time.
In a research paper titled, The Power of a Quality Dividend Investment Strategy, O'Shares ETF Investments highlighted the importance of dividends. Specifically, dating back to 1957, the price return of the S&P 500 is over 6,000%, but the total return which includes the impact of dividends and compounding is over 40,000%. The researchers found that approximately 85% of the hypothetical total return an investor would have generated over this period could have been attributed to dividends and compounding.
"Investors looking to boost the income generated by their portfolio may want to consider high quality dividend paying stocks. Profitable dividend paying companies have the ability to maintain and even grow dividend payments to their investors. This is demonstrated by the growth in dividends per share paid by the companies in the S&P 500," according to O'Shares.
Corporate America is also increasing the amount of dividends paid to investors, meeting the increased income needs of many market participants. From 2010 through 2018 the dividends per share paid by S&P 500 companies have more than doubled, or a growth rate of nearly 11% per year.
Dividend-paying stocks are also a portfolio stabilizer, diminishing the negative effects of market volatility, while providing the same level of returns as the broader market. Over the past decade, dividend strategies have performed about the same as generic growth with much less risk. Dividends have produced an annualized return of nearly 15% compared to the S&P 500 and Value which returned about 13% and 12%, respectively.
Investors who are interested in a dividend strategy can look to a quality dividend ETF strategy as a way to offset potential risks down the road.
For instance, investors can gain diversified exposure to global markets through a number of O'Shares smart-beta ETFs, including the O'Shares FTSE US Quality Dividend ETF (OUSA B+).
The ETF follows three core investment principles: income, diversification and capital appreciation. Component holdings have stable cashflow to pay dividends, are diversified across 10 sectors to limit volatility and invest in quality companies with strong financial performances that may have a higher chance of appreciating over time.
"Combining these two strategies could provide strong performance with less risk. Quality may be defined as companies with stronger profitability and balance sheets, those exhibiting higher return on assets and lower leverage. Companies of higher quality, may be better positioned to maintain and grow dividends," according to O'Shares.
Specifically, OUSA tracks large- and mid-cap dividend-paying issuers in the U.S. Additionally, the underlying FTSE US Qual / Vol / Yield Factor 5% Capped Index may implement screens on market capitalization, liquidity, high quality, low volatility and dividend yields to weed out riskier components and focus on dividend payers with a history of low volatility.
Click here to download the O'Shares research paper, The Power of a Quality Dividend Investment Strategy.
---
Content continues below advertisement