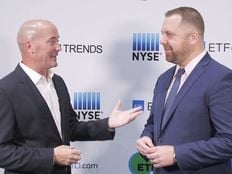 As investors consider the potential headwinds and volatility going into 2020, many are looking into defensive areas to safeguard their wealth, such as bond-related ETF strategies.
"What we've seen in our space alone, which is sort of a safer place to park some cash, we've seen an allocation coming into this part of the curve, which to me indicates investors are getting a little bit more risk-averse," James McNerny, Managing Director & Portfolio Manager, J.P. Morgan Asset Management, said at the 2019 Charles Schwab IMPACT conference.
Specifically, investors may look to a fund like the actively managed JPMorgan Ultra-Short Income ETF (JPST A) as a popular way to access the short-end of the yield curve. McNerny also helps manage the JPMorgan Ultra-Short Income ETF, which has already accumulated $10 billion in assets under management.
The ultra-short duration bond strategy leverages the expertise of J.P. Morgan's Global Liquidity business. Many are looking for a safe way to park their cash and reduce risk exposures, and with something like JPST, investors can utilize an innovative solution to build stronger portfolios.
JPST tries to provide current income while seeking to maintain a low volatility of principal by investing in investment-grade, U.S.-dollar-denominated short-term fixed, variable and floating rate debt. The fund can include corporate securities, asset-backed securities, mortgage-backed and mortgage-related securities, and high quality money market instruments such as commercial paper and certificates of deposit.
The ETF has a 2.12% 30-day SEC yield and a 0.51 year duration. J.P. Morgan notes that JPST captured 105% of the U.S. Aggregate Bond Index's yield with only 8% of the benchmark's duration.
Watch the full interview between ETF Database Co-CEO Tom Lydon and James McNerny:
---
Content continues below advertisement