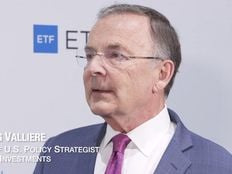 U.S. markets have hit new highs, but many are still concerned about the bumps along the way. Nevertheless, investors can look to ETF strategies to diversify risk and participate in any further upside.
"Anxiety among many investors, in my opinion, is bullish when you have that kind of mentality, but more importantly, I think investors have to tune out a lot of the B.S. and the dysfunction in Washington. It's background noise, all of the stuff," Greg Valliere, Chief U.S. Policy Strategist, AGF Investments, said at the 2019 Charles Schwab IMPACT conference.
Political noise "doesn't affect earnings, doesn't affect the Fed. It doesn't affect the overall economy. I think for investors the fundamentals still look pretty good," he added.
Investors can get defensive with infrastructure by using exchange traded funds, such as the AGFiQ Global Infrastructure ETF (GLIF ). The AGFiQ Global Infrastructure ETF uses a multi-factor investment process to seek long-term capital appreciation by investing primarily in global equity securities in the infrastructure industry.
As a way to better manage potential drawdowns ahead, investors can look to a negative-beta strategy like the AGFiQ U.S. Market Neutral Anti Beta ETF (BTAL C+) to better hedge risks. BTAL acts as a type of long/short strategy that goes long low beta stocks and short high beta stocks. Consequently, the ETF strategy can produce positive returns any time low beta outperforms high beta.
Additionally, the AGFiQ Dynamic Hedged U.S. Equity ETF (USHG B) could better address volatility and risk management. The AGFiQ Dynamic Hedged U.S. Equity ETF provides exposure to a diversified portfolio of U.S. equities, while seeking to provide long-term capital appreciation with lower volatility using embedded downside risk management which seeks to protect capital. The ETF offers exposure to the long-term growth potential of U.S. equities using a multi-factor approach designed in an effort to have lower volatility and better risk-adjusted returns relative to the market through its use of a dynamic hedging model.
Watch the full interview between ETF Database Co-CEO Tom Lydon and Greg Valliere:
---
Content continues below advertisement