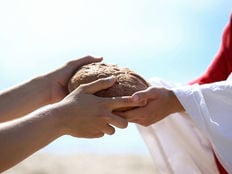 This week, Timothy Partners, LTD., advisor to the Timothy Plan family of funds, has announced the introduction of two more new ETFs that will help Christian investors continue to, in their words, "honor God with their money."
Timothy Plan U.S. Small Cap Core ETF (TPSC) and Timothy Plan International ETF (TPIF) are affordable, transparent, tax-efficient and simple ways Christians can invest and steward their "God-given resources" wisely.
"The introduction of these two new ETFs brings Timothy Plan's total family of funds to 12 mutual funds and four ETFs," said Timothy Plan founder Art Ally. "To continue our mission of providing Christians with relevant investment products that do not compromise their values, we are excited to again partner with Victory Capital to launch these two additional Timothy Plan ETFs. This exciting news will help us to further glorify God by striving for excellence in all that we do."
For over 25 years, Timothy Plan has helped advisors and investors achieve their financial goals through a pro-life, pro-family approach to investing—not only to benefit the investor but the broader culture. Additionally, Timothy Plan is firmly committed to operating with what they see as "integrity, excellence, and wisdom that brings honor and glory to Jesus and is a beacon for godly stewardship" in the financial community.
Biblically Responsible Investing
The first of its kind, Timothy Plan birthed the trend of Biblically Responsible Investing (BRI), which continues to grow. In fact, Timothy Plan now has $1 billion of assets under management.
Timothy Plan's ETF methodology sets its funds apart from the rest. Strategic beta seeks to capture exposure to certain factors and exploit market inefficiencies in an attempt to deliver specific and/or better risk-adjusted outcomes while striving to return the benefits of passive investing.
TPSC and TPIF are now available to trade. For more information on Timothy Plan, visit timothyplan.com. View the media page for Timothy Plan here.
Timothy Plan ETFs are distributed by Foreside Fund Services, LLC., member FINRA and SIPC. Timothy Partners, Ltd. (investment advisor to the ETFs), Victory Capital Management Inc. (sub-advisor to the ETFs) and Foreside Fund Services, LLC (distributor of the ETFs), are not affiliated. Timothy Plan mutual funds are distributed by Timothy Partners, Ltd., member FINRA.
This article originally appeared on ETFTrends.com.
---
Content continues below advertisement