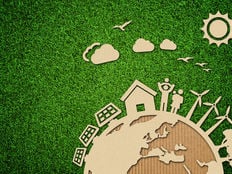 On Tuesday, IndexIQ, a New York Life Investments company and a leading provider of innovative investment solutions, announced the launch of two new ETFs. They will incorporate CANDRIAM's industry-leading ESG research and data for the first time in a cost-effective ETF wrapper.
These funds are the IQ Candriam ESG US Equity ETF (IQSU) and the IQ Candriam ESG International Equity ETF (IQSI). The ETFs track indexes which offer broad market exposure to large- and medium-cap companies satisfying the environmental, social, and governance (ESG) criteria developed by CANDRIAM, a fellow New York Life Investments business, and global multi-specialist asset manager with over 20 years of expertise in sustainable investing.
The new funds track the two IndexIQ indexes: IQ Candriam ESG US Equity Index and the IQ Candriam ESG International Equity Index.
The CANDRIAM Pioneers
CANDRIAM, which stands for Conviction and Responsibility in Asset Management, has pioneered an award-winning approach to sustainable investing since its inception, launching its first sustainable investing funds in 1996 and becoming an early signatory of the U.N. Principles for Responsible Investment (PRI) in 2006.
CANDRIAM's proprietary ESG evaluation process includes a dedicated ESG research team, which reviews companies on environmental, social and governance considerations, either in absolute terms or relative to their peers in each sector, focusing on the most material ESG factors.
"As U.S. investors become increasingly interested in sustainable investing, high-quality ESG strategies with the potential to generate alpha are at a premium," said David Czupryna, Head of ESG Client Portfolio Management at CANDRIAM. "We are excited to expand our existing partnership with IndexIQ with IQSU and IQSI, which incorporate CANDRIAM's award-winning ESG criteria to meet the needs of American investors."
Related: Research Shows that ESG Is Picking up Momentum
The CANDRIAM research is supported by a team that engages with companies as part of collective initiatives or individually, with the aim to improve corporate disclosure on ESG topics or foster better corporate practices on ESG matters. Using the research as a key input, CANDRIAM applies sustainable investing criteria across the firm.
"We are thrilled to incorporate CANDRIAM's ESG criteria in our U.S. ETFs for the first time," added Sal Bruno, Chief Investment Officer at IndexIQ. "Partnering with CANDRIAM enables us to provide core ESG products that leverage their award-winning ESG research and data while offering broad market exposure, without forgoing any sectors, in a cost-effective and tax-sensitive way. We believe this diversification, as well as the competitive fee levels, will be valuable to our clients, allowing us to meet their return objectives while offering investment strategies that align with their values."
This article originally appeared on ETFTrends.com.
---
Content continues below advertisement