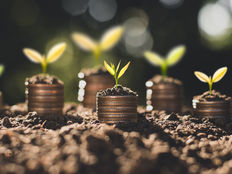 On Monday, the Leuthold Group launched the Leuthold Core ETF (LCR), an actively-managed "exchange-traded fund of funds" incorporated in U.S.
This fund was designed as a core holding for investors seeking steady growth along with the liquidity and convenience of an ETF. It will apply the same disciplined, rules-based quantitative rigor as the firm's Core mutual fund and reflects Leuthold Group's philosophy that exposure to multiple asset classes — and dynamically adjusting exposures at different points in the business cycle — can potentially generate growth and long-term investment success. The fund will reference the S&P 500 as its primary benchmark.
"With the bull market in stocks entering its record 11th year, we know that advisors and their clients are focused on investment options that can adjust if and when conditions change," said Leuthold Group Co-CEO John Mueller. "We also know that they want a product format that's as nimble as the investment strategy itself, which is why we made the decision to offer our tactical asset allocation approach as an ETF."
The Leuthold Group believes the most important decision is proper asset class selection and a highly disciplined, unemotional method of evaluating risk/reward potential across investment choices. They adjust the exposure to each asset class to reflect their view of the potential opportunity and risks offered within that category.
"We believe that purchasing a collection of asset classes has the potential to provide steady growth and foster long-term investment success," the Leuthold Group noted on its website. "Adding the element of flexibility toward portfolio weightings will complement the asset diversification and increase the opportunities to make the most of special market and economic attributes that surface as business cycles evolve."
LCR Keeping Things Flexible
As mentioned, flexibility is central to the creation of an asset allocation portfolio that is effective in a variety of market conditions. LCR and the company as a whole possess the flexibility and discipline to invest where there is value and to sell when there is an undue risk.
The Leuthold Group selects specific Underlying Investments based on an evaluation of their market exposure, liquidity, cost, and historic tracking error relative to their underlying index or benchmark. The Adviser continuously updates its investment discipline and adjusts the Fund's portfolio as necessary to keep the fund invested in Underlying Investments which the Adviser believes are the most attractive. Such adjustments usually result in high portfolio turnover.
Research Director Scott Opsal, Senior Analyst Chun Wang, and Leuthold Chief Investment Officer Doug Ramsey will serve as co-portfolio managers. "We've been developing, implementing and refining successful tactical asset allocation strategies for decades and I'm excited that it's going to be easier than ever for investors to gain exposure to this style of investing through an ETF," said Ramsey.
The Leuthold Core ETF will dynamically allocate between equity and fixed-income markets (between 30% – 70% for each) on a monthly basis, using Leuthold's time-tested Major Trend Index. Once equity versus fixed income weightings is determined, the equity component will invest in sectors and industry groups that rank highly in a monthly industry group analysis. Fixed income exposure will be aligned with Leuthold's inflation outlook and—within the credit space — with the firm's momentum plus relative yield model. The fund may trade a wide array of securities, but typically will own fixed-income, equity-sector, and industry-group ETFs.
The Leuthold Core ETF carries a management fee of 0.50%, part of a total expense ratio of 0.86% (after expense reimbursement). Leuthold Weeden Capital Management is the investment adviser to the fund. To learn more information about LCR ETF, visit the Leuthold website.
This article originally appeared on ETFTrends.com.
---
Content continues below advertisement