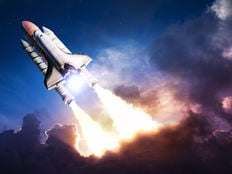 Direxion launched three new ETFs today as part of an acceleration of fund offerings to help long-term buy-and-hold investors benefit from strategically-focused return streams.
The three new funds are the Direxion MSCI USA ESG – Leaders vs. Laggards ETF (Ticker: ESNG), the Direxion Flight to Safety Strategy ETF (Ticker: FLYT), and the Direxion S&P 500® High Minus Low Quality ETF (Ticker: QMJ).
ETF Trends spoke with Dava Mazza, Managing Director at Direxion, about these new ETFs. He, similarly, explained how Direxion was looking to diversify its lineup with these new ETFs for more buy and hold investors, building off of their heritage for tactical traders.
ESNG Will Diversify Existing Strategies
ESNG aims to offer more pronounced exposure to environmental, social & corporate governance leaders, while simultaneously having a short position in those that significantly lag behind, as defined by MSCI's market leading ESG metrics. The ETF tracks an index that measures both the ESG rating, as well as the rating trend, of companies relative to their sector peers. Utilizing a 150/50 structure, the index methodology creates an extended exposure (equal to 150% of net assets at rebalance) to the 100 highest scoring ESG companies, while having a short position (50% of assets) to the 100 lowest scoring companies, in the MSCI USA universe, with a net long exposure of 100% (that is, no net leverage). It is the first ESG ETF of its kind offering such an exposure.
"As we know, ESG has been in the news for some time," Mazza told ETF Trends. "It's taken a long time for it to get true interest other than just headlines, but in the last year we began to see some positive flows. Many people are embracing it not just as a fad, but as a way it can be a part of portfolios."
"But, to date, most of them have been relatively simple strategies where either they've been exclusionary or really over-emphasizing those names that aren't improving in their ESG characteristics. What we do is a different spin on that. We're long with the 100 stocks in the MSCI USA that have the best ESG characteristics within their sectors. We're short those with the worst characteristics within their sectors."
"So, it's all about a way to diversify existing strategies and really proving how ESG works," Mazza adds, "It's technically a sector-neutral approach because we don't want to be biased, where you're just overweight tech, and short oil and gas."
---
Content continues below advertisement
QMJ Will Increase Quality Exposure
Similarly, QMJ utilizes a simple, capital-efficient 150/50 structure to seek to deliver increased exposure to the quality factor. The index and fund will target 150% exposure to the stocks with the highest scoring measures of quality (including return on equity, financial leverage ratio, and accruals ratio) while maintaining a negative 50% exposure to low quality stocks as defined by S&P from the universe of 500® stocks. It is also the first smart beta ETF of its kind to offer such an exposure to the quality factor, which continues to gain investor attention relative to more well-known factors, such as value or low volatility.
Maza notes, "This is really about taking advantage of the continued growth in factor investing but doing so in a way that gets closer to what the academics have always said investors should do, which is look at long/short strategies. So we think this is going to be a really interesting strategy for investors who are interested in the fact that quality may not be as well known as value investing or growth investing, but it can have great long term performance beneficial for an investor in their portfolio."
No Fight, Just FLYT
FLYT combines long-term U.S. Treasurys, utility stocks, and physical gold into a single portfolio. FLYT is designed to deliver a source of returns uncorrelated to the equity markets, with the ability to provide meaningful appreciation and yield potential over the long term. This allows investors to not only mitigate potential market risk but participate in a low cost way that many liquid alternative strategies have struggled to deliver. The fund seeks to reduce portfolio risk by being a highly responsive investment in the event of market volatility and equity declines.
"The intention here is that for an investor who is concerned about a sell-off or markets being at all-time highs, and looking for more balance in their portfolio, FLYT is really directed towards them," Mazza explains, "What's interesting is how most products that proport to be hedging strategies may be a good hedge, but they can be costly and complicated. FLYT is not. It's those three assets that most people know and understand their defensive characteristics."
"We do have a weighting mechanism in it that overweights that asset with the lowest trailing volatility in five years, subject to a cap on the gold weight. But really, it's intended to be a very simple strategy that is not just protection but you get to participate in that protection as well."
Related: 2020 Outlook: The Fear of the Fear of Missing Out
"We're on a mission to accelerate the number and variety of strategies we offer that can benefit long-term investors," said Mazza. "These strategies allow a broader audience to benefit from our expertise in delivering smart, precise exposure to distinct and strategically focused investment opportunities."
Although Direxion continues as the leader in 3X Leveraged ETFs for traders, the ETFs planned for rollout in subsequent 2020 quarters will focus on Direxion's commitment to extending the firm's expertise in allowing more surgical exposure to longer-term investment themes.
This article originally appeared on ETFTrends.com.