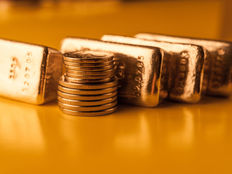 Due to the coronavirus epidemic, gold ETFs, such as the SPDR Gold Shares (GLD A-) and the SPDR Gold MiniShares (GLDM ), are rallying on safe-haven buying to start 2020. For its part, GLD, the world's largest gold-backed ETF, is higher by more than 3%.
In its ongoing contagion, the coronavirus has now shown 31,211 validated cases in China and a minimum of 637 deaths as of Friday morning, although there is a possibility that the rate of infection is slowing said World Health Organization officials on Friday.
However, GLD's recent bullishness isn't going unnoticed by some options traders and those market participants appear to be seeking some protection on the benchmark gold ETF.
"In the meantime, options trading has picked up, with puts trading at six times the expected pace today," reports Schaeffer's Investment Research. "The most popular contracts by far are the April 135 and 140 puts, where more than 156,000 contracts collectively have traded. New positions are opening, and anyone buying the puts would be betting on a move lower from GLD in the coming months."
Gold Catalysts Still Linger
Meanwhile, investors fled stock markets overnight and intraday, sending gold higher, as safe haven assets seemed more appealing for now.
Since interest rates are so low, gold is more alluring than other assets, and until there is a clear sense that the coronavirus will be curtailed and that global trade is on track, investors may be likely to use idle cash or even pull money from stocks to invest in asset classes like gold for their apparent protective qualities.
As more investors turn to ETFs to access the markets, gold ETFs have become a go-to choice to easily and quickly gain exposure to the precious metal.
According to DataTrek research, ETF investors have been a key driver of the roughly 19% full-year gain in gold prices, even as global demand for the precious metal dipped 1%. The data suggested that the rising prices helped attract investors but pushed out consumers looking for jewelry.
Related: ETFs Have Been Piling Up On Gold Past Two Weeks
"Coming into today it was call buying that was the popular strategy around the security. The 10-day call/put volume ratio at the International Securities Exchange (ISE), Cboe Options Exchange (CBOE), and NASDAQ OMX PHLX (PHLX) is 2.27, a number that ranks in the bullish 95th annual percentile.
More broadly, GLD is up 19% in the past 12 months and hasn't traded below its 50-day moving average since December. Overall, the ETF is pacing for a sixth straight positive quarter," according to Schaeffer's.
This article originally appeared on ETFTrends.com.
---
Content continues below advertisement