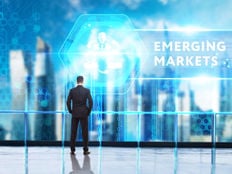 As global rates retreated, more investors are looking into emerging market bonds and related ETFs to enhance their fixed-income portfolios with higher yields.
The market for emerging market bonds "is very hot right now," Akbar Causer, emerging markets portfolio manager at Eaton Vance, told the Wall Street Journal. "It's very easy for a company to come to the market, especially if you're in a country that's in favor."
Emerging market companies have sold a record amount of foreign-currency-denominated debt this year. About $66.4 billion of bonds denominated in U.S. dollars, euros and other currencies have been sold this year by nonfinancial businesses in emerging countries, according to Dealogic data.
Meanwhile, investors have turned to emerging market debt as a greater source of yields. For example, the Vanguard Emerging Markets Government Bond ETF (VWOB A) and iShares Emerging Markets High Yield Bond ETF (EMHY B), which both track USD-denominated emerging market bonds, have attracted $205 million and $128 million in net inflows, respectively, so far this year.
"It has been very opportunistic," Chris Mey, senior fund manager at European asset manager Candriam, told the WSJ. "There is a sense that when you hit these lows in Treasurys, you don't know when something unforeseen could happen to markets and then you have missed the opportunity."
Yields on benchmark 10-year U.S. Treasury notes were hovering around 1.53% on Thursday, compared to its 1.88% level at the start of the year.
However, some market observers are warning of the potential risks associated with this increased demand for emerging market debt exposure among investors. Specifically, emerging-market corporate debt is a relatively new and make up an illiquid market. Furthermore, these borrowers may face further challenges to pay back their bill if the U.S. dollar strengthens further. The WSJ Dollar Index, which tracks the greenback against a basket of widely viewed currencies, has appreciated 10% in the past two years.
This article originally appeared on ETFTrends.com.
---
Content continues below advertisement