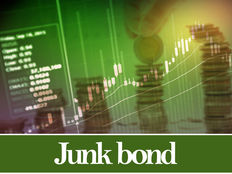 With stocks under significant pressure, high-yield corporate bonds are following suit, a trend that should call attention to the ProShares Short High Yield (SJB B-), particularly as outflows from the two largest junk bond ETFs build.
Investors have recently been departing the iShares iBoxx $ High Yield Corporate Bond ETF (HYG B+) in significant fashion. HYG tracks the investment results of the Markit iBoxx® USD Liquid High Yield Index, which is comprised of high yield U.S. corporate bonds that have less than investment-grade quality. SJB attempts to deliver the daily inverse performance of that benchmark.
"Investors have pulled over $4 billion from high-yield debt ETFs in the past week, after pouring about $13.4 billion into the funds in the last year," reports Bloomberg.
While falling earnings and rising debt loads contribute to credit quality, access to new capital is equally important to speculative-rated companies, which usually lack the cash to pay off debt and would typically rely on refinancing.
Eschewing Junk
"U.S. junk-bond funds are on track to see their biggest outflows in more than six months as investors pull back from risky assets amid deepening concerns about the spread of the coronavirus and its economic fallout," reports Bloomberg. "The primary market was frozen for a third straight day on Wednesday as issuers assess volatility. Combined with rising risk premiums on U.S. junk bonds, ETF investors are tapping out."
Declining oil prices are another catalyst for SJB because many traditional high-yield bond indexes are chock full of energy issues. On Thursday, SJB gained 1.54% on about seven times the average daily volume, boosting its gain over the past week to 3.34%.
SJB "seeks a return that is -1x the return of its underlying benchmark (target) for a single day, as measured from one NAV calculation to the next. Due to the compounding of daily returns, ProShares' returns over periods other than one day will likely differ in amount and possibly direction from the target return for the same period," according to ProShares. "These effects may be more pronounced in funds with larger or inverse multiples and in funds with volatile benchmarks. Investors should monitor their holdings as frequently as daily."
This article originally appeared on ETFTrends.com.
---
Content continues below advertisement