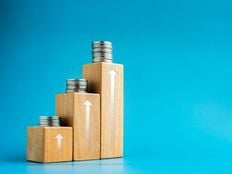 Weekly Asset Class Fund Flows
Investors often reallocate money in between asset classes, whether to manage risk or simply to rebalance. This is our weekly snapshot of where ETF investors are putting their money.
As investors fled bonds this week t the tune of $614 million, preferred stock funds came on the rise. While the $144 million in new assets isn't enormous, there's only 13 funds in the asset class making it a bit more of a splash. The 78% of the week's inflows for the class comes from just two funds: the Invesco Preferred ETF (PGX) and the iShares Preferred and Income Securities ETF (PFF) at $67 and $45 million respectively.
This week's biggest loser was the iShares iBoxx $ High Yield Corporate Bond ETF (HYG) as investors pulled $1.4 billion form the junk bond fund. Despite this week's move fixed income is still going strong; the asset class has seen cumulative inflows of $125 billion YTD. Its worth noting the over 12% return bets on the 20-year U.S. T-bill rate had last week, so investors may be taking more opinionated stands as the year goes on.
| Asset Class | AUM ($, mm) | Net Flows ($, mm) |
| --- | --- | --- |
| Preferred Stock | $32,437.57 | $144.23 |
| Volatility | $3,480.81 | $71.69 |
| Multi-Asset | $18,716.07 | $40.53 |
| Currency | $2,004.30 | $18.11 |
| Alternatives | $2,772.32 | $3.35 |
| Equity | $3,505,495.84 | -$4.54 |
| Commodity | $154,872.30 | -$160.10 |
| Real Estate | $60,409.65 | -$189.48 |
| Bond | $978,472.71 | -$613.79 |
---
Content continues below advertisement