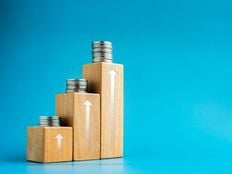 Top Performing Unleveraged ETFs Last Week
These were last week's top performing ETFs. We've excluded funds which use leverage or make inverse bets on their underlying assets.
Commodities, and gaming and travel, oh my! Last week saw quite a spread across asset classes and sectors for the top performers. Leading the pack was the iPath Series B Carbon ETN (GRN), but investors should note the other two alternative energy funds making the list: the KFA Global Carbon ETF (KRBN) and the Invesco Solar ETF (TAN). ESG fund returns like these make the case for their inclusion in retirement plans, despite recent concerns for the DOJ, as they are outperforming traditional energy funds.
Not to be outdone, we have the Roundhill Sports Betting & iGaming ETF coming in with almost 11% gains last week. In the 2020 world of quarantine and stay at home orders, its hardly surprising that this fund is picking up steam since it's launch in June. Ahead of the harvest season, we're also seeing healthy returns in the iPath Dow Jones-UBS Cocoa ETN (NIB).
For those with an eye on leaving the house the U.S. Global Jets ETF (JETS) is a pure play bet on air travel which saw a whopping $1.5 billion in new assets last week as well. Something to keep an eye on as the possibilities for travel outside the U.S. begin opening (hopefully soon).
| Ticker | Name | 1 Week Return |
| --- | --- | --- |
| (GRN ) | iPath Series B Carbon ETN | 15.10% |
| (BETZ ) | Roundhill Sports Betting & iGaming ETF | 10.93% |
| (DJCI ) | E-TRACS DJ-UBS Commodity Index | 10.88% |
| (NIB ) | iPath Dow Jones-UBS Cocoa ETN | 10.46% |
| (JETS ) | U.S. Global Jets ETF | 9.98% |
| (KRBN ) | KFA Global Carbon ETF | 9.80% |
| (TAN ) | Invesco Solar ETF | 8.43% |
| (CHIS ) | Global X MSCI Consumer Staples ETF | 8.34% |
| (BDRY ) | Breakwave Dry Bulk Shipping ETF | 8.14% |
| (IGV ) | iShares Expanded Tech-Software Sector ET | 7.44% |
---
Content continues below advertisement