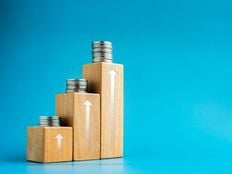 Weekly Asset Class Fund Flows
Investors often reallocate money in between asset classes, whether to manage risk or simply to rebalance. This is our weekly snapshot of where ETF investors are putting their money.
For the first time since early August, investors have turned away from volatility funds; pulling $136 million from the asset class. The about face comes primarily on the back of two funds, the iPath Series B S&P 500 VIX Short-Term Futures ETN (VXX A-) and the ProShares Short VIX Short-Term Futures ETF (SVXY A-), from which investors pulled $66 and $41 million respectively.
Bond ETFs however, were riding high last week and gained over $5.3 billion in new assets. Rockstars for the week were the iShares Short Treasury Bond ETF (SHV A-) and the Vanguard Total International Bond ETF (BNDX A-), into which investors poured over $1 billion each. Not to be outdone the single highest inflows for the week came from equities as ETF giant (SPY A), pulled in $3.4 billion on it's own. The gain was offset however, by $2.5 billion being pulled from the Invesco QQQ ETF (QQQ B+), leaving the asset class as a bit of a mixed bag.
| Asset Class | AUM ($, mm) | Net Flows ($, mm) |
| --- | --- | --- |
| Bond | $996,371.85 | $5,374.63 |
| Equity | $3,506,633.73 | $1,102.95 |
| Preferred Stock | $33,295.07 | $48.02 |
| Real Estate | $60,420.33 | $31.83 |
| Multi-Asset | $18,663.13 | $10.16 |
| Currency | $2,056.58 | -$12.50 |
| Alternatives | $2,763.79 | -$14.96 |
| Commodity | $154,085.73 | -$91.10 |
| Volatility | $3,546.42 | -$136.54 |
---
Content continues below advertisement