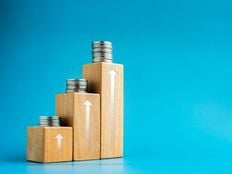 Weekly Asset Class Fund Flows
Investors often reallocate money in between asset classes, whether to manage risk or simply to rebalance. This is our weekly snapshot of where ETF investors are putting their money.
This past week was solid gold for commodity ETFs as the asset class topped the flows charts for the week with $1.9 billion in new assets. The move comes mostly from inflows into the SPDR Gold Trust (GLD A-) despite negative returns of 2.6% for the week. The gold fund had the highest inflows of any fund at $1.9 billion. Volatility made its way back into investors' good graces with flows of $147 million or almost 4% of its total assets. 81% of those inflows can be attributed to the ProShares Ultra VIX Short-Term Futures (UVXY B-).
While funds like the Vanguard S&P 500 ETF (VOO A) and the Vanguard Total International Stock ETF (VXUS A) both pulled in $2.2 billion, equity funds lagged behind at only $731 million in net flows. The gains by the top two equity funds were unfortunately offset by the outflows from the iShares Russell 2000 ETF (IWM A-) and the Vanguard Growth ETF (VUG A-), with investors pulling almost $1.2 billion from each fund.
| Asset Class | AUM ($, mm) | Net Flows ($, mm) |
| --- | --- | --- |
| Commodity | $152,651.46 | $1,886.87 |
| Bond | $998,024.39 | $1,519.91 |
| Equity | $3,426,757.99 | $731.37 |
| Volatility | $3,748.53 | $146.88 |
| Preferred Stock | $33,376.77 | $139.10 |
| Currency | $2,074.09 | $22.30 |
| Multi-Asset | $18,216.86 | $3.85 |
| Alternatives | $2,758.49 | -$11.29 |
| Real Estate | $57,406.88 | -$52.98 |
---
Content continues below advertisement