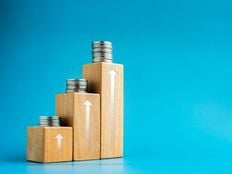 Weekly Asset Class Fund Flows
Investors often reallocate money in between asset classes, whether to manage risk or simply rebalance. This is our weekly snapshot of where ETF investors are putting their money.
While commodities were hit hard this week, equities had a strong showing with $9.4 billion in new assets. 75% of the outflows from commodities came from the SPDR Gold Trust (GLD A-), with losses of almost $1.3 billion, while the investor favorite for the week, iPath's Dow Jones-UBS Commodity ETN (DJP A-), brought in a paltry $27 million. Equities proved to be stronger than the $1.9 billion (SPY A) outflows this week, on the back of the Vanguard Total Stock Market ETF (VTI A) that brought in over $2 billion.
On the smaller side, alternatives' $148 million inflows accounted for 5% of the class' total assets.
| Asset Class | AUM ($, mm) | Net Flows ($, mm) |
| --- | --- | --- |
| Equity | $3,865,633.08 | $9,408.35 |
| Preferred Stock | $36,506.88 | $359.16 |
| Real Estate | $64,456.32 | $170.46 |
| Alternatives | $2,952.92 | $148.67 |
| Volatility | $3,561.11 | $68.97 |
| Multi-Asset | $20,345.34 | $44.57 |
| Currency | $1,929.59 | -$6.18 |
| Bond | $1,025,021.85 | -$334.50 |
| Commodity | $146,258.60 | -$1,719.96 |
---
Content continues below advertisement