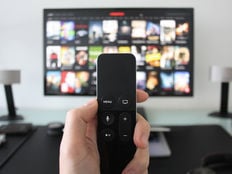 On Wednesday, Roundhill Investments launched the Roundhill Streaming Services & Technology ETF (NYSE ARCA: SUBZ), the first ETF globally designed to invest in companies in the streaming sector. It's another way for the markets to make a push into a popular aspect of technology that shows no sign of slowing down.
"Media streaming continues to grow rapidly as more consumers abandon traditional media and subscribe to a select number of streaming services. This transition, accelerated over recent years, has taken place across multiple industries including video, audio, and even gaming," said Roundhill Investments Portfolio Manager Mario Stefanidis.
SUBZ holdings include video streaming platforms Netflix (5.96% weight) and FuboTV (4.12% weight), audio streaming platforms Spotify (5.73% weight) and Tencent Music (5.62% weight), and streaming technology companies Roku (5.96% weight) and J-Stream (5.04% weight).
The launch of SUBZ follows the successful launches of (BETZ C) – The *Sports Betting ETF and (NERD B) – The Esports ETF, which are up +80.12% (Market) (NAV: +80.53%) and +124.67% (Market) (NAV: +124.07%) since their respective inception dates.
| | Since Inception(12.31.20) | Since Inception(1.31.21) | 1-Year(12.31.20) | 1-Year(1.31.21) |
| --- | --- | --- | --- | --- |
| NERD (Market) | 1.0559 | 1.2467 | 0.8962 | 1.1254 |
| NERD (NAV) | 1.0527 | 1.2407 | 0.8988 | 1.1136 |
| BETZ (Market) | 0.6815 | 0.8012 | N/A | N/A |
| BETZ (NAV) | 0.6828 | 0.8053 | N/A | N/A |
---
Content continues below advertisement
The performance data quoted represents past performance. Past performance does not guarantee future results. Current performance may be lower or higher than the performance data quoted. The investment return and principal value of an investment will fluctuate so that an investor's shares, when sold or redeemed, may be worth more or less than their original cost. Returns less than one year are not annualized. For the most recent month-end performance, please call (855) 561-5728. You cannot invest directly in an index. Shares are bought and sold at market price (closing price), not net asset value (NAV), and are individually redeemed from the Fund. Market performance is determined using the bid/ask midpoint at 4:00 pm Eastern time when the NAV is typically calculated. Brokerage commissions will reduce returns.
Additionally, this actively managed fund will provide investors with a piece of global exposure as well. It makes plenty of sense, as the streaming space is growing across the world as technology progresses further and further. With that in mind, SUBZ holdings come from multiple countries. The U.S. represents 54.5% of the fund, China 26.9%, Sweden 5.8%, Japan 5.1%, South Korea 4.7%, and Canada at 3%.
Roundhill Investments is a registered investment adviser and ETF sponsor focused on thematic and sector-specific investing. To learn more about the fund, please visit https://www.roundhillinvestments.com/etf/subz.
This article originally appeared on ETFTrends.com.