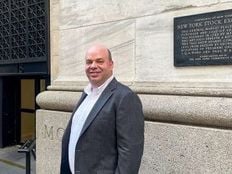 Advisors have historically been hesitant to use an ETF that holds other ETFs inside, with broad asset allocation strategies struggling to gain traction. However, the is a rare exception. This Nasdaq index-based momentum strategy, which invests in five First Trust sector and industry ETFs, has $3.2 billion in assets aided by more than $400 million of net inflows thus far in 2022. Advisors benefit from the tactical adjustments made by leveraging well-established relative strength analytics from Dorsey Wright.
As the name infers, FV consists of five ETFs, making it different from the (MTUM B+) we about in early December that invests directly in approximately 125 stocks. The five ETFs must represent at least three broad sectors and are chosen among 20 different First Trust products tied to cyclical sectors like energy, industrials, information technology, and materials sectors as well as the more defensive consumer staples, healthcare, and utilities sectors. 
The five ETF constituents have the best relative strength attributes, according to Dorsey Wright. The index is reviewed for changes every two weeks, but there have only been 17 reconstitutions since the index's inception in 2014, a little over two per year. The pace of changes increased since March 2020 as new sector leaders emerged in the early days of market weakness due to the onset of COVID-19 and subsequent months of market recovery. In the first four months of 2022, there were three changes made, though none have occurred since, as the relative strength of the current constituents has remained high. A sector ETF needs to fall out of the top half of the universe based on technical factors to be removed from the broader index and replaced with a new entrant.
The latest additions consist of the , which owns Campbell Soup, General Mills, and Kellogg among its top holdings; the , which owns Devon Energy, Diamondback Energy, and Marathon Oil among its top holdings; and the , which owns Nucor, Steel Dynamics, and United Steel among its top holdings. Unlike some broad energy and materials sector peer ETFs, FXN and FXZ are not market cap-weighted but rather are constructed based on relative growth and value attributes.
The two other ETF positions were added in 2021. The (FXR B+) owns Landstar System, Louisiana-Pacific, and Quanta Services among its top positions. The has Chevron, Exxon Mobil, and Occidental Petroleum in its top 10.
Since March 2022, FV has had zero exposure to technology sector ETFs, the first time in the eight-year history of the Dorsey Wright Focus Five Index's history, according to Nasdaq, consistent with its relative strength methodology as technology has fallen out of favor. While the index had as high as three technology sector ETF constituents between November 2017 and September 2020, exposure was pared back in early 2021 and again in late 2021 to make room for the new leading sectors of energy and industrials. The final technology sector ETF, the , was removed in March 2022 due to weak technical trends and replaced with FXZ. When a sector ETF is added or removed from FV, it results in a notable spike in the individual fund's volume. 
Year-to-date through December 9, FV was down just 5.2%, outperforming the S&P 500 Index by approximately 1,100 basis points. Over the past three years, FV's 15% annualized total return was more than 500 basis points stronger. It's easy to see why advisors have been comfortable with this ETF of ETFs. We will be watching to see when it changes next and what sector gets added.
For more news, information, and analysis, visit .
---
Content continues below advertisement