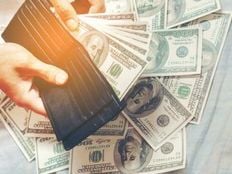 BlackRock, Vanguard, and State Street's hold on the ETF market is rock-solid, with the trio holding $5.2 trillion in assets of the $6.7 trillion held in American ETFs. But as 2023 rolls into full swing, which funds outside of the so-called Big Three are drawing the most assets?
All data is as of market close, January 20.
Short Debt, Dividends In Style
The Schwab Short-Term U.S. Treasury ETF (SCHO A) is the dominant fund year-to-date, drawing in nearly $2.5 billion in new assets as investors position for the Federal Reserve's ongoing hiking cycle. The same logic applies to the WisdomTree Floating Rate Treasury Fund (USFR A-), adding $242 million in the same period.
The actively-managed JPMorgan Ultra-Short Income ETF (JPST A) makes the top 15 flows list with $405 million in new assets. That fund actively manages a portfolio of corporate and Treasury debt while keeping its duration, or the measure of sensitivity to interest rate changes, below one.
Dividend strategies remain in vogue after a mix of high inflation and deep selloffs in the broader equity markets sent investors in search of companies with track records of increasing payouts. The JPMorgan Equity Premium Income ETF (JEPI A) has drawn just over $1 billion in new assets year-to-date and just shy of $14 billion in the last 12 months. The Schwab US Dividend Equity ETF (SCHD B+) and Pacer US Cash Cows 100 ETF (COWZ A) also took in a combined $1.6 billion year-to-date and $26 billion over the past year.
---
Content continues below advertisement
Tech Bears 
Bets against big tech industries also found a foothold so far in 2023. The Direxion Daily Semiconductor Bear 3X Shares (SOXS B) has a cumulative inflow of $991 million this year despite a dismal 28.4% loss in 2023. The ProShares UltraPro Short QQQ -3x Shares (SQQQ A) also took in $896 million in new cash this year.
That contrasts with a deep selloff in tech bets amid industry layoffs and fears of recession, with the Invesco QQQ Trust (QQQ B+) seeing $6 billion in outflows and the ProShares UltraPro QQQ 3x Shares (TQQQ B+) losing $1.14 billion so far this year.
Foreign Market Interest
The dire predictions of a cold winter plunging Europe into recessions didn't materialize, leading to a nearly-$800 million inflow into the JPMorgan BetaBuilders Europe ETF (BBEU A). Also drawing interest is Beijing's recent lifting of COVID restrictions, with the Xtrackers Harvest CSI 300 China A-Shares ETF (ASHR B+) gathering $405 million on the year.
"We also saw Chinese equity ETFs gain in popularity as the emerging market has had an impressive start of the new year," said Todd Rosenbluth, VettaFi's head of research.
| Ticker | Name | Issuer | YTD Return | 1y Return | YTD Flow | 1y Flow |
| --- | --- | --- | --- | --- | --- | --- |
| SCHO US | Schwab Short-Term U.S. Treasury ETF | Charles Schwab | 0.75% | -2.71% | 2485M | 4346M |
| JEPI US | JPMorgan Equity Premium Income ETF | JPMorgan | 0.95% | 2.49% | 1009M | 13995M |
| SOXS US | Direxion Daily Semiconductor Bear 3X Shares | Direxion | -28.42% | -42.76% | 991M | -22515M |
| SCHD US | Schwab US Dividend Equity ETF | Charles Schwab | 0.53% | 1.23% | 966M | 16319M |
| RSP US | Invesco S&P 500 Equal Weight ETF | Invesco | 4.40% | -1.91% | 932M | 5387M |
| SQQQ US | ProShares UltraPro Short QQQ -3x Shares | ProShares | -17.07% | 7.50% | 896M | 859M |
| BBEU US | JPMorgan BetaBuilders Europe ETF | JPMorgan | 8.78% | -4.29% | 796M | -3915M |
| COWZ US | Pacer US Cash Cows 100 ETF | Pacer Financial | 5.58% | 8.88% | 636M | 9722M |
| BOIL US | ProShares Ultra Bloomberg Natural Gas 2x Shares | ProShares | -47.41% | -66.10% | 424M | 1087M |
| USFR US | WisdomTree Floating Rate Treasury Fund | WisdomTree | 0.24% | 2.18% | 408M | 4713M |
| ASHR US | Xtrackers Harvest CSI 300 China A-Shares ETF | DWS | 12.06% | -15.74% | 405M | -75M |
| JPST US | JPMorgan Ultra-Short Income ETF | JPMorgan | 0.36% | 1.56% | 399M | 6304M |
| UNG US | United States Natural Gas Fund | US Commodity Funds | -27.23% | -21.68% | 325M | 390M |
| AGQ US | ProShares Ultra Silver 2x Shares | ProShares | -0.63% | -14.95% | 297M | 301M |