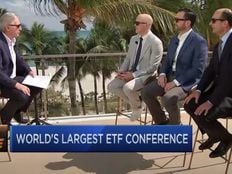 ETF Edge, hosted by Bob Pisani, was live from Exchange in Miami and featured Dave Nadig, financial futurist at Vettafi, alongside Vance Barse, founder of Your Dedicated Fiduciary, and Anthony Rochte, global head of ETFs at Morgan Stanely, to talk advisor insights from the floor of the conference, market trends, and more.
"I wouldn't be leaning too hard into this narrative that somehow unprofitable growth is coming back and we're all going to pile in," Nadig said of how RIAs are thinking about money right now. "Talking to the advisors here, there's still a lot of caution: a lot of focus on inflation, a lot of focus on doing better with your fixed income."
Vance Barse, CPWA, AIF, and founder of Your Dedicated Fiduciary, doesn't ascribe to the narrative that inflation is finished and will rapidly fall back to the 2% threshold that the Fed is aiming for. Barse is currently positioning clients for a period of elevated inflation and ensuring their portfolios are thematically aligned to best capture the prolonged inflationary environment.
---
Content continues below advertisement
Morgan Stanley Enters the ETF ESG Fray
Anthony Rochte, global head of ETFs at Morgan Stanley, also discussed the launch of the company's first ETFs, two active funds and four passive, all of which are ESG-centric. Rochte explained that despite a challenging environment last year for ESG funds, Calvert, a leader in ESG investing for over four decades, had net inflows into its ESG-focused mutual funds.
"One of the ETFs, the (CVSB ), has 5.5% yield, priced competitively at 24 basis points, fully transparent active ETF, which Dave, you know is a significant trend in the marketplace," Rochte said.
Nadig agreed, adding that more active ETFs than passive were launched in 2022 in a trend that "says volumes."
The Changing Themes of 2023
Challenging markets have meant that advisors and investors are looking to a wider range of strategies, including buffered ETFs that cap upside potential but provide downside protections. "If you're looking at the market and you're uncomfortable and you think 'Gosh, there could be 15%–20% down still to go,' and you're not willing to be invested here, buffered products are going to solve that problem for you," Nadig explained.
Conversation also covered the changing trend of increased outperformance of foreign markets over the U.S., increased interest in emerging markets, the 2022 boom in dividend strategies, changing trends in fixed income moving away from stalwarts like the (JNK A-) and towards senior loan ETF strategies, and the rise of active within bonds in particular.
Also briefly touched on was the noticeable waning in interest for crypto at Exchange 2023: "Crypto's certainly well off its lows. I don't think that narrative is gone, but certainly there is much less conversation at this conference this year about crypto — virtually nothing," Nadig said.
Other ETFs discussed included the (CDEI ), the (CVIE ), and the (CVSE ).
For more news, information, and analysis, visit VettaFi | ETF Trends.