In this month's inaugural CMO Views, I connect with Karrie Van Belle, chief marketing and innovation officer at AGF Investments Inc. in Toronto, Canada.
I've learned more talking to leaders one-on-one than I have reading books or staring at dashboards — and that alone says a lot because I love to read and I really love dashboards. I am a data guy, but as I continue to digitally transform professionally and personally, I find human connection more important than ever. We can learn so much from each other, and that's why I'm excited to launch VettaFi's CMO Views — built by marketers, for marketers. This look into some of the most brilliant minds in marketing will (hopefully) keep you entertained, inspire you, and teach you something you did not know. 
Karrie is a strategic driver of AGF's digital transformation agenda, focused on driving efficiencies and enhanced client experiences for the firm, in addition to overall responsibility in leading the firm's marketing and communications strategy across its diverse range of investment management platforms, and leadership of the firm's product initiatives globally. Karrie has more than 20 years of marketing and communications experience rooted in the Canadian asset management industry.
Jobs and Careers — From First Job to Dream Job 
Jon Fee: I think a lot about the difference between a job and a career. We all spend a huge slice of our lives working, and that time can drive satisfaction and growth, or it can leave us feeling disconnected and unhappy. What do you think is the difference between a job and a career?  
Karrie Van Belle: A job is something you go to from 9:00 to 5:00 for the paycheck, while a career is something that you are passionate about. A career is gratifying and something longer-term and evolutionary. A career should always provide you with opportunities for growth.   
Jon Fee: I completely concur. Tell us a little about your first job.  
Karrie Van Belle: I started working as a teenager and gained experience with typical jobs in fast food and retail. I even spent some time working on a tobacco farm. These first jobs taught me work ethic, responsibility, and independence.  
I was also a bank teller at Canada Trust. In many ways, I consider this to be my first real job. Looking back, the lessons I learned at this job have stayed with me throughout my career. My experiences taught me about the importance of engaging with clients, being transparent in my communications, and showing empathy. On any given day you did not know who was going to enter your branch, what their day had been like, and what their money situation was, and being able to deliver the client experience and service was critical despite how they may have been feeling when they came in that day. 
Jon Fee: What about your dream job? If you could pivot to a passion project as a dream job, what would it be?  
Karrie Van Belle: Anyone who knows me knows that I am passionate about sports and marketing. My dream job would be to combine these two passions. Advertising, as an interest and passion, for me, started at a very young age — I will always remember my grade six speech which focused on the role and impact of ads where I sang the Mr. Potato Head jingle at the front of my class. If you know me, you're likely surprised to hear that I even had the nerve to sing in front of 30+ of my classroom peers. I am not a singer and I am introverted and quiet by nature, but this topic brought out my passion.  
Jon Fee: Oh my gosh — I would love to hear you sing the Mr. Potato Head jingle! What was your first job in marketing?  
Karrie Van Belle: My first job in marketing was with Edward Jones in Canada. It was a role that gave me experience as both a graphic designer and a writer. From there I continued to extend my learnings into new areas of marketing and communications including brand, advertising, market research, as well as digital and data strategy.  
---
Content continues below advertisement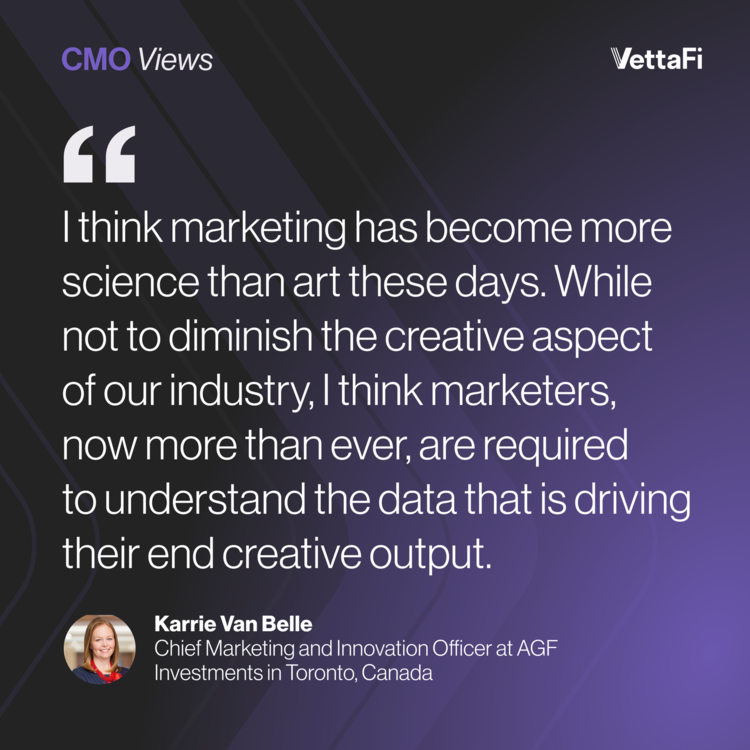 Jon Fee: Marketing is constantly changing and evolving. Tell me about how marketing was defined when you first entered the field vs. how you, as a CMO, define it today.   
Karrie Van Belle: Previously, marketing was about making something look pretty or sound right. I think marketing has become more science than art these days. While not to diminish the creative aspect of our industry, I think marketers, now more than ever, are required to understand the data that is driving their end creative output. The CMO role itself continues to be elevated within firms, recognizing the role it serves in accelerating and understanding business strategy. We are seeing the evolution from a creative production house to a strategic partner.   
Pets and Pet Peeves  
Jon Fee: Probably the most important question I will ask you: Do you have pets?
Karrie Van Belle: For me, a home is not a home without a four-legged fur monster to come home to. My pets of choice are dogs, which I have had all my life. Growing up, I had beagles around the home, and since my first home with my husband, we have been proud lab owners. We first welcomed home a loyal and loving chocolate lab named Wendel, who gave us 14 perfect years. More recently, our home is filled by a soon-to-be three-year-old fox-red lab named Bowie, equally loving and loyal, able to play ball for hours on end, and notoriously believes he is starving in true lab fashion.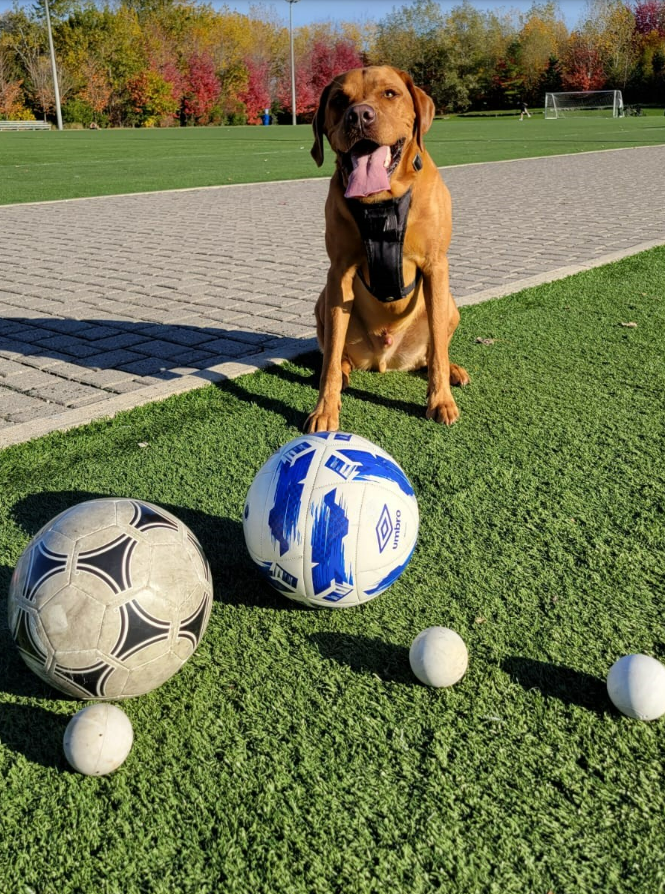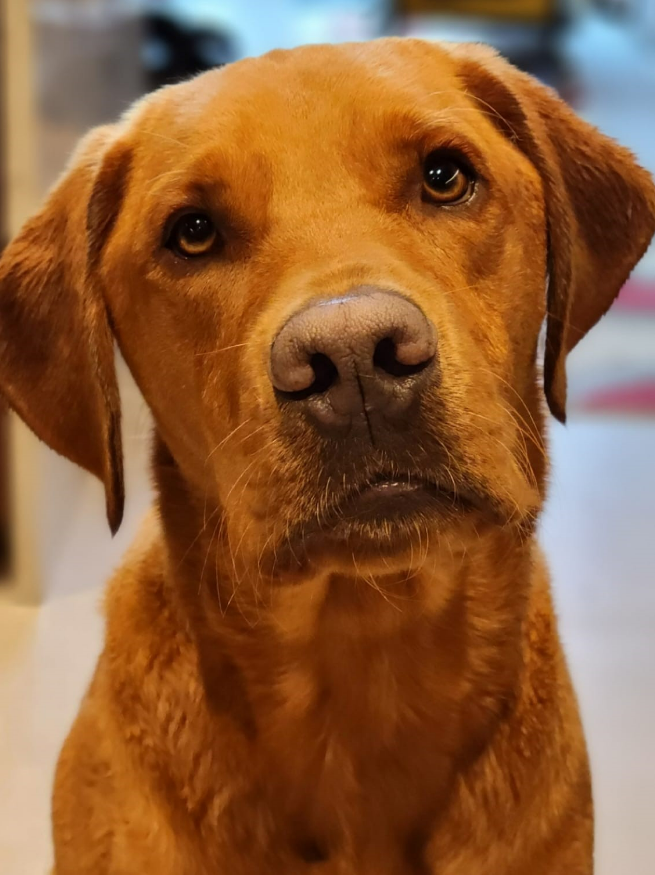 Jon Fee: Bowie is stunning! To flip this "pets" section on its head a bit and tie it back to work, what about pet peeves? What annoys you the most in the workplace?   
Karrie Van Belle: My biggest pet peeve is when people don't take the opportunity to learn from their mistakes.   
I encourage people to take risks. But if the risk doesn't pay off, they need to be willing to learn, grow, and not repeat the same mistake. My other pet peeves include people talking over each other, not being transparent, having to repeat myself (which might be because I speak so quietly), and a messy desktop.  
Leadership   
Jon Fee: Let's talk about leadership. What daily habits or weekly routines do you have that keep you sharp as a leader and evolving as a marketer?  
Karrie Van Belle: As a leader, I always ask a lot of questions. I never think I'm the smartest person in the room, and frankly never am, and that allows me to ask questions.   
I believe in always being curious. I'm willing to question the status quo, which is something you need to do to grow and learn.   
Of course, it's also important to challenge yourself to do better. You can never be complacent if you want to evolve as a leader.   
Jon Fee: That's so true. The moment you think you have everything figured out is the moment you start making mistakes. Is there something you can point to (a book, an experience, a person) that has helped keep you moving and evolving, and had a big role in shaping your leadership style?  
Karrie Van Belle: I feel fortunate that throughout my career I have had exposure to great leaders, mentors, and training programs.   
It has been a gift for me to be around leaders that challenge me and make me think differently. At the same time, the training programs I participated in gave me permission to invest in myself and use the resources to develop as a leader.   
I have also worked with some great agencies, and looking back, those relationships really taught me the ropes — especially when it came to learning the advertising side of the business. These relationships still exist today, and I have a network of people I can call to bounce ideas off of or to get advice.   
Throughout my career, I have worked with a lot of smart people. They have challenged me and really given me the opportunity to learn and grow as a marketer. As a result, I am committed to giving my team members the same experiences including the opportunities to develop and evolve.   
Digital Transformation 
Jon Fee: That's an incredible answer, thank you! For the next section, I want to talk about digital transformation. This is a challenge I love to ask of marketers: Describe digital transformation without using the words digital transformation.   
Karrie Van Belle: It is about using emerging data in different ways to accelerate change. It's about using data and insights to drive efficiencies and improve the client experience.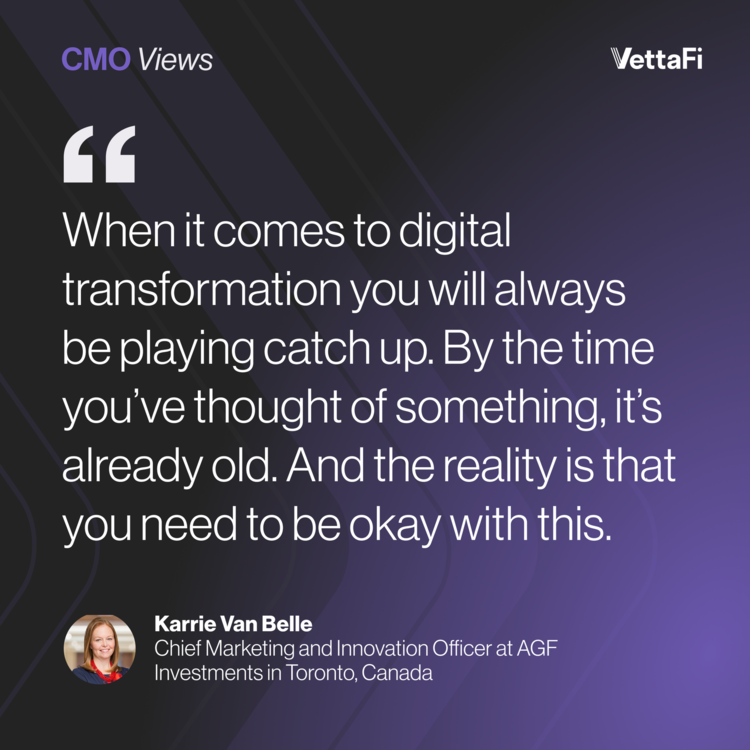 Jon Fee: Good answer. What is something in this space that nobody is thinking about?   
Karrie Van Belle: I think something that everyone needs to think about or be aware of is that when it comes to digital transformation, you will always be playing catch up.   
By the time you've thought of something, it's already old. And the reality is that you need to be okay with this. Digital transformation is about evolving, and you need to move forward even when it feels like you're playing catch up.  
Giving Back
Jon Fee: We're big on community in VettaFi, and personally, I always find one of the best expressions of community to be volunteerism. Tell me about your volunteerism and giving back to make a greater impact.   
Karrie Van Belle: Giving back is very important to me, especially when it comes to supporting initiatives related to financial literacy and education.   
When I was a teenager, I had a family friend go above and beyond to help me save money. Her gesture set me up for success as I was preparing for university. I will never forget what she did for me or the lessons I learned.   
As a result, I am passionate about supporting organizations that help set students up for success at an early age.   
I have recently been involved in Junior Achievement and the Merit Award Bursary.   
Junior Achievement is the world's largest not-for-profit organization dedicated to educating young people about business. Their programs are focused on financial literacy and emphasize the advantages of staying in school and how this choice can positively impact future dreams and career choices.  
Similarly, the Merit Bursary Award works to inspire high school students to continue their education while recognizing the contributions they've made to their communities.  
Jon Fee: I know we saw each other down at the Exchange conference. I'm over the moon to share that Exchange attendees volunteered 130+ hours and we contributed over $50,000 to the Susan G. Komen Foundation, The Surfrider Foundation, and JA Worldwide (Junior Achievement). 
Crystal Ball  
Jon Fee: I love that you can recognize how people have lifted you and are endeavoring to do the same for others. We're coming into the home stretch here, and I'd love to cast our gaze on the future. Thinking one to five years out, tell me about your predictions for marketing and marketers. What's coming next? How do we prepare?
Karrie Van Belle: If only I had a crystal ball. While I don't have a prediction, I would say to all marketers to strap in as it is going to be a fun, fast, and bumpy ride. I don't think anyone can know what is coming next, so you just have to remember to be nimble, agile, and open to the unknown.  
A Parting Gift From Belle
Jon Fee: Karrie, it has been amazing talking with you. As we reach the end of this CMO View though, I'd love for you to leave a parting gift for our readers. Can you share with us an album, book, movie, TV series, or other creative work that brings you joy right now? Also, tell us what is it about this creative work that fires you up. 
Karrie Van Belle: When it comes to a TV series, I highly recommend "Ted Lasso." As you probably know, it is a show about an American football coach who is hired to manage a British soccer team. I was a fan from the very first episode and couldn't wait to keep watching.   
My family enjoys anything sports-related, but I was also drawn to the show because of Ted Lasso's positive attitude. There isn't another character like him on TV, and he's being recognized for his leadership style. In fact, there are articles about how the character is reinventing leadership and proving that nice leaders can finish first. It's all very refreshing and reminds me of the lessons I learned about engaging with others, being transparent in my communications, and showing empathy in my first job as a bank teller.   
And when it comes to books, I've always been a fan of Douglas Coupland. While Ted Lasso is redefining leadership, Douglas Coupland literally defined a generation with his book "Generation X."
He is a Canadian short story writer, essayist, and visual artist, but it's his books that have really left an impression on me. Some of my favorites include "Shampoo Planet," "Microserfs," and "Girlfriend in a Coma."
Through his work, he has been recognized as one of the most original commentators on mass culture of the late 20th and 21st centuries.   
Follow Karrie Van Belle on LinkedIn.
To learn more, catch Jon Fee at the Strategy Institute Digital Marketing for Financial Services Conference.
For more news, information, and analysis, visit VettaFi | ETFDB.