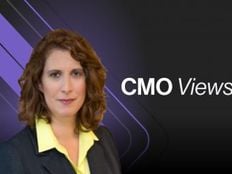 In this edition, Fee sits down with Emily Pachuta, formerly of Invesco. The role of the chief marketing office (CMO) has evolved as companies digitally transform, embrace the power of brand, and lean into data-driven behavioral insights to drive client growth and satisfaction. No longer is the role merely "colors and fonts" or "clever copy." Today, a CMO sits at the intersection of most functions within an enterprise, with responsibilities that span pipe, business development, sales automation, and even community-building. As a result, successful CMOs must embrace change while remaining close to both customer and product.
In his new monthly column, CMO Views, VettaFi's CMO Jon Fee connects with other CMOs to discuss how they drive success inside and outside their organizations, sharing perspectives on career, outlook, and motivation. 
In her former role as chief marketing and analytics officer, Pachuta set the firm's overall advanced analytics and marketing strategy in order to accelerate business growth and strengthen Invesco's reputation with U.S. and Canadian wealth management intermediary, institutional, and individual investor clients. Pachuta also served as the executive leader on the firm's global distribution data, global marketing, and global digital priorities. She is a frequent media spokesperson and conference speaker about client experience, digital modernization, and the intersection of data and creativity.
[Editor's note: At the time of the interview, Pachuta was employed at Invesco, but she has since left.]
Jobs and Careers — From First Job to Dream Job 
Jon Fee, CMO, VettaFi: I like talking about jobs and careers because we all spend a lot of time at our jobs or building careers, and it's typically the root of our life satisfaction or dissonance. What do you think is the difference between a job and a career?
Emily Pachuta, former CMO, Invesco: For me, a job is something you have to do. A career is something that you want to build and grow. A job feels more transactional in nature: money for work done. A career thrives and brings purpose, beyond the monetary.  
Fee: I like that. Tell me about your first job. 
Pachuta: During college summers, I worked for a law firm as a temporary word processor and assistant who would answer phones and file papers. The pay was decent, and the lawyers were extremely polite, so it was a good job. Those skills came in handy when I went to get my Master's in film production at NYU; I put myself through the program by working overnight and weekend shifts at a NYC law firm.  
Fee: Do you have a dream job?
Pachuta: That's a tough question, because I really love the career that I've been able to continue to build at Invesco that spans data, analytics, and marketing disciplines. However, I am a huge hockey fan, so my dream job would be to work for the Washington Capitals, or for the NHL, to help them grow their fanbase and to make hockey fun and accessible for everyone.
Fee: How did you get into the marketing world? 
Pachuta: My first job in marketing was at Merrill Lynch. I had taken time off when my children were born, and when my son was two, I wanted to do something part-time. A woman from my children's preschool worked at Merrill Lynch, and they were looking for someone to be a part-time writer and editor. I had no professional background in financial services, but I did well on the assessments, and I was hired. I still think that it was kismet — meant to be.   
It was such an exciting time, because Merrill Lynch was transforming their business model away from "Wall Street to Main Street" and toward wealth management. A new CMO — who is a mentor to this day — really shook things up and loved change. In the seven years that I was there, I experienced almost every aspect of marketing and had the opportunity to learn from amazing professionals, as well as from advisors and their clients. I was hooked on the discipline of marketing, but also the purpose and impact that wealth management and asset management can have on people's families and lives.
Fee: Mentoring in marketing is particularly unique, because of how fast the space evolves. Who was the mentor who got you to where you are today?
Pachuta: Paula Polito, who was the CMO at Merrill Lynch while I was there. She had the single greatest impact on my career; I would not be where I am today, had not been for the potential that she saw in me and the opportunities she gave me at both Merrill Lynch and later at UBS.  
[Personally], I find it very rewarding to mentor, both formally and informally. Formally, I am mentoring two people now — one at Invesco who is not in marketing, and one outside of Invesco who is a marketer. I learn so much from the conversations with these wonderful professionals.   
---
Content continues below advertisement
Successful Marketing Highlights the Why and the How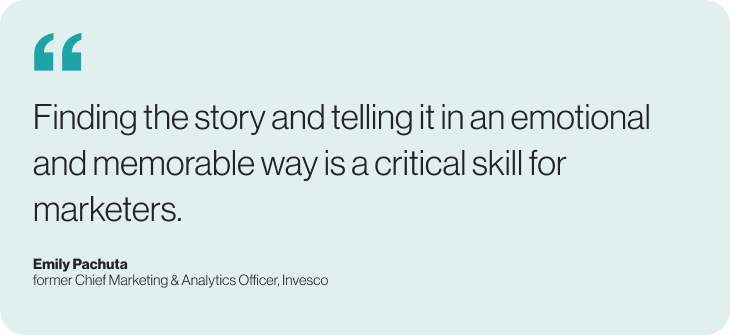 Fee: What's something you learned from an earlier job you had outside of marketing that impacts your abilities as a marketer or your approach to your current job?  
Pachuta: Finding the story and telling it in an emotional and memorable way is a critical skill for marketers. In film school, I gravitated toward making documentaries — I shot my thesis film in Moscow — because I loved how you could have an idea for the film, but, in the end, you needed to be still. You needed to watch and listen until the real story would reveal itself.   
Asset management products can be complex, and they aren't tangible objects like consumer products. I think we tend to focus a lot on "what" the products are. But successful asset management marketing keys in on the purpose products they serve: the "why" and "how" you use them to reach human-centric goals.   
Fee: Agreed. Getting to the "why" and "how" is like Marketing 101 these days, but it wasn't always that way. How was the definition of marketing different when you first entered the field, versus how you as a CMO define it today? 
Pachuta: When I first entered the field, "marketing" was either advertising or sales enablement collateral. It was also very product-centric. However, in other industries, marketing was more evolved, so I've always looked outside industry to anticipate where the puck is going in terms of impact that marketing can have. 
There was also a view that "B2B" marketing was different than "B2C," which struck me as a bit odd. People are at the center of "B2B," [which is] no different than "B2C."   
Today, I define marketing as making an emotional connection between a brand and its customers. In asset management, that emotional connection is all about empowering confident financial decision-making… whether you are an institutional investor, financial intermediary, or individual investor. To do that, you really need to understand your client using research, data, and analytics, then take that knowledge to deliver personalized experiences that meet your client where they are. There's still too much focus on getting clients or customers to come to the brand and not enough focus on meeting customers where they are.  
Pets and Pet Peeves   
Fee: I find that a bit frustrating. It's a pet peeve of mine. It tells me brands are not truly focused on the customer. Speaking of, let's talk about pets and pet peeves. Do you have pets? 
Pachuta: I have two French bulldogs. Our first Frenchie is four years old, and his name is Ovi. He was born the same year that the Washington Capitals won the Stanley Cup, and he's named for Alexander Ovechkin, who is the captain of the team. Our second Frenchie is Ovi's biological son, and his name is Gretzky for Wayne Gretzky. They have two speeds — crazy and cuddling — and we can't imagine our home without them.  
Fee: Sounds like my kids. What about your pet peeves? What annoys you the most in the workplace?  
Pachuta: It can be annoying when people hold views that aren't substantiated by data at all. Data may even refute the view, but it's become a hard-held "truth." Also, workplaces can make getting work done far more complex than it needs to be, so we should always be asking, "How can we move faster?"
Fee: I can relate to that. Old habits and ways of thinking can be hard to change. However, businesses that base decisions on data, not just instincts or experience, are 19 times more likely to be profitable. Thankfully, I've yet to meet anyone who does not want to be 19 times more profitable! 
Leadership    
Fee: What daily habits or weekly routines do you have that keep you sharp as a leader and evolving as a marketer? 
Pachuta: I'm always looking to learn from those with more experience or different points of view. I try to be conscious of where I have opportunities to improve and focus on those areas. I make time to join sessions with CMOs and leaders involved in data and analytics outside of industry. I used to think that it was a luxury, and these engagements would be the first thing to go when there was a calendar conflict, but I learn so much from these experiences that I've been prioritizing my participation in these conversations and counsels.  
Fee: What one thing has played the greatest role in shaping your leadership style? 
Pachuta: The book "Team of Teams" by General Stanley McChrystal made me think long and hard about the insufficiency of hierarchical leadership and what the role of the leader really is. Concurrent to my exposure to the concepts in "Team of Teams," I also had a wonderful executive coach, [with whom] I learned how purposeful you must be if you are going to be the leader you aspire to be. My goal is to be a servant leader who focuses on empowering my team and enabling them to be their best selves. I assess to ensure that my intentions match my actions. For example, I will look back on my calendar every quarter to assess if I am spending most of my time in ways that empower my team and enable them to be their best selves.  
Fee: We just got back from Exchange, where our attendees volunteered 130+ hours and we contributed over $50,000 to the Komen Foundation, Surfrider Foundation, and Junior Achievement. Tell me about your volunteerism. How do you give back?
Pachuta: I've been involved in Rock the Street Wall Street, which is a financial and investment literacy program for high school girls. I volunteer at the Stuyvesant High School program location in NYC. I'm also a board member of Sapere Aude Consortium, an organization the provides research-based internships to first-generation rising college sophomores and juniors. When I spend time with the young women in both programs, I feel quite confident that our society's future is in good hands.  
I support these two organizations because I am passionate about seeing the wealth inequality gap narrow, which can happen with greater financial and investment literacy. I would like to see greater diversity in our industry, and that will only happen if we address the challenge across multiple dimensions, one of which is helping students who might never have thought about a career in finance consider one.  
Digital Transformation 
Fee: Let's switch gears and talk about "digital transformation." Without using the words "digital" or "transformation," define what this term means.
Pachuta: Making the ways that we connect with each other and our customers faster, more intuitive, and more personalized.  
Fee: What is something nobody is thinking about in terms of digital transformation but you are keenly aware of?
Pachuta: I am aware that digital transformations are less about disruption for disruption's sake and more about finding new ways to connect in faster, more intuitive, and more personalized ways. Web 3.0 and Metaverse are obvious examples of that.
Fee: Thinking one to five years out, tell me about your predictions for marketing and marketers? What's coming next? How do we prepare? 
Pachuta: My prediction — and I think that this will be true in the one- to five-year window — is that AI will play a much larger role in marketing than it does today, whether that's in content creation or the increasing sophistication of data analytics. There will absolutely be a role for people, and I feel that people who embrace this will be better able to focus on their differentiated value. Companies who embrace this will grow faster/more profitably and have deeper client loyalty, because they can anticipate and meet needs faster. [Author note: Pachuta's comments were given before the ChatGPT hype train spun up.] 
Fee: What's one headline that you expect to read in five years? 
Pachuta: "Alexander Ovechkin scores 1,000th goal." Just joking. (Although it's possible!)  
The headline that I would like to read is "50% of Fortune 500 CEOs Are Women."  
Fee: I would like to read that too. Before I let you go, can you share with us an album, book, movie, TV series, or other creative work that brings you joy right now?
Pachuta: Experiencing creativity live, after not being able to for so long, is bringing me joy. I'm consciously building some kind of performance into my life at least once a month. I love the spontaneity of live performance — anything can happen, no matter how much preparation or rehearsal went into it, but the performers keep going and maybe even discover something magical in the process. And isn't that just a great metaphor for life — people plan and G*d laughs — but you might just find something new and magical along the way.
To stay connected to Emily, you can follow her on LinkedIn.
For more news, information, and analysis, visit VettaFi | ETFDB.