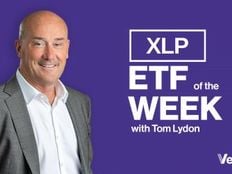 VettaFi's vice chairman Tom Lydon discussed the (XLP A) on this week's "ETF of the Week" podcast with Chuck Jaffe of Money Life.
"It's unbelievable that [XLP] just hit an all-time high — not for the year, but forever," Lydon said. "When you think about it, there have been a lot of concerns about the markets for sure: inflation, rising interest rates, the potential of recession. However, the bellwether of the stock market, as far as how the average investor is feeling, is all in what they spend at the market."
Lydon said that companies like Procter and Gamble, Pepsi, or Walmart, for example, are still doing well, demonstrating that people are still shopping and spending money, and the market is not too concerned yet about credit card debt. As inflation is starting to come down, this may be a bellwether for brighter times ahead.
XLP is above its 200-day moving average, a positive sign for both the stock market and the overall U.S. economy, according to Lydon.
"With that in mind, as investors are looking to go back into the market and they're starting to feel a little bit more confident, it's nice to be able to pick your spots," Lydon said. "There may be areas or sectors in the S&P 500 that you may not feel as good about; however, if you were looking at the [consumer] staples area, I think you could feel good about it."
"As areas are starting to trend in the right direction, and we are having positive response from the American consumer, this is an area to participate because people are still going to have to buy toilet paper and toothpaste and beer," Lydon added.
Lydon offered a use case for the fund, suggesting that if an investor has 20% of their money on the sidelines, they might want to put 5% into XLP with the idea that they will watch the 200-day moving average very closely.
"I think the biggest thing that we can all consider at this point is: Just don't get caught on the sidelines if this is the beginning of a decent recovery," Lydon said.
---
Content continues below advertisement