Before becoming an ETF analyst, I spent approximately a decade as a fundamental stock research analyst. For me, the success of the Columbia Threadneedle ETFs is indeed worthy of celebration. The team, which rang the closing bell at the New York Stock Exchange last week, provides advisors with a rules-based approach to index-based investing based on stock research.  
"These rules are based on active management expertise and grounded in research," explained Marc Zeitoun, head of strategic beta at Columbia Threadneedle Investments. "For investors, that means they can access the best thinking of our active portfolio managers in a cost-effective passive vehicle. They won't find 'the kitchen sink' in our portfolios. Instead, they will find intentionally chosen exposures built to target the best possible outcomes." 
For example, when you do research on the Columbia Research Enhanced Core ETF (RECS A-), you will find Lowe's Companies (LOW) and Procter & Gamble (PG) among the ETF's top 10 holdings. These large-cap stocks are overweighted relative to the iShares Russell 1000 ETF (IWB A). In the three-year period ended May 10, RECS was up 15.5% on an annualized basis, ahead of IWB's 13.4% total return. RECS has $150 million in assets, but this asset base has doubled in size in 2023 due to net inflows. 
"The fund's performance since inception demonstrates that we can deliver the core investment philosophy of our active equity strategies — enhanced by the intensity of our quantitative research — in a convenient and accessible strategic beta framework. So, it's not surprising to see the ETF gaining traction with investors this year," added Zeitoun.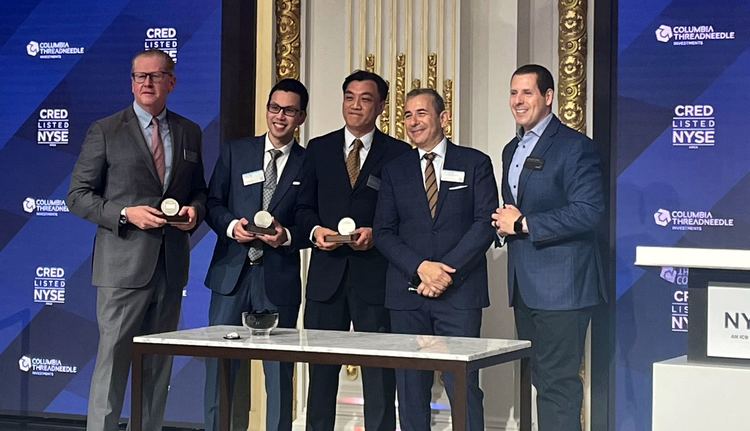 ---
Content continues below advertisement
A New Real Estate Sibling Based on Stock Research  
In April 2023, Columbia Threadneedle launched a real estate ETF based on proprietary stock research principles. The Columbia Research Enhanced Real Estate ETF (CRED A) is designed to outperform the FTSE Nareit All Equity REITs Index through research-driven security selection and modified market cap weighting that emphasizes income and geographic opportunity. 
"Recent survey data from Columbia Threadneedle Investments shows that 93% of financial advisors plan to maintain or increase their real estate allocations over the next 12 to 24 months, confirming that the timing is right for the launch of CRED," explained Zeitoun. 
Relative to popular REITs ETFs like the Vanguard Real Estate ETF (VNQ A), CRED is different. For example, the newer ETF has larger stakes in Invitation Homes (INVH) and Mid-American Apartment Communities (MAA).  
Columbia Threadneedle has given ETF-oriented advisors tools to tap into in-house expertise in a cost-conscious manner. For example, RECS and CRED have respective net expense ratios of 0.15% and 0.33%. As more advisors become aware of these ETFs, they will find what is inside to be distinct. 
For more news, information, and analysis, visit VettaFi | ETF Trends.