This week, the VettaFi Voices gathered to reflect on a year at VettaFi under the firm's new name. The team celebrated wins, time spent together, and shared their favorite insights and highlights from a busy twelve months.
Todd Rosenbluth, director of ETF research: Happy one-year anniversary, everyone! VettaFi's accomplishments this year to transform financial services from an industry into a community have amazed me. I've enjoyed working with every one of my fellow VettaFi Voices. I also want to shout out everyone at VettaFi who makes our content, webcasts, and in-person events even better.
Dave Nadig, financial futurist: I think it will be hard to top the feeling of bringing the community together in person at Exchange. I found real conversations with advisors, portfolio managers, economists, and thought leaders an incredible expression of our brand values. I am proud we've really kept that front and center in all our work: asking the right questions to help advisors make better decisions.
Rosenbluth: Yes, Dave, I agree on Exchange. I got to spend quality time with Roxanna and Stacey for the first time and saw so many advisors. We received tremendous feedback, and I'm excited for Exchange 2024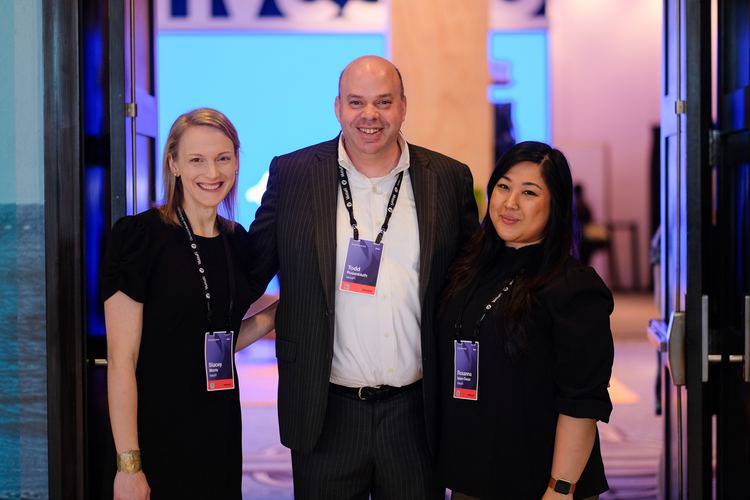 ---
Content continues below advertisement
Roxanna Islam, associate director of research: I definitely agree. I found Exchange to be a highlight of the year for many reasons. I also really enjoyed writing my pre-Exchange note and my Exchange recap. Both were really fun and had a different style from how I usually write. (Thanks, VettaFi, for letting us slip in funny titles like What Comes First: Thematic Investing or the Egg?)
Rosenbluth: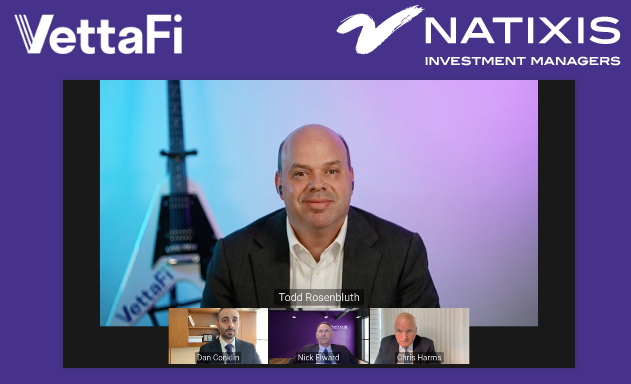 I agree, Roxanna, that VettaFi's creative approach just makes things more fun. I'm typing this from our NY office studio, where I do videos and webcasts. The team routinely finds fun ways to showcase our brand and values. Months ago, the team followed Dave and me around NYC to capture us having a good time.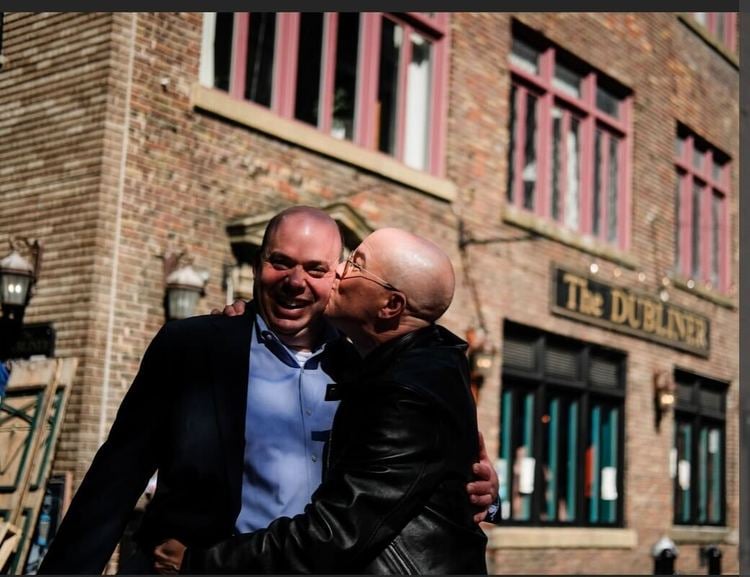 Let me share one more photo as a memory at Exchange. I joined our team QuizaFi at the Pub Quiz we hosted. The team included some other VettaFi Voices, and people that make this company a cool place to work won the quiz. Our win also resulted in an awkward moment where I had to announce we were donating the prize winnings to the charities tied to the conference.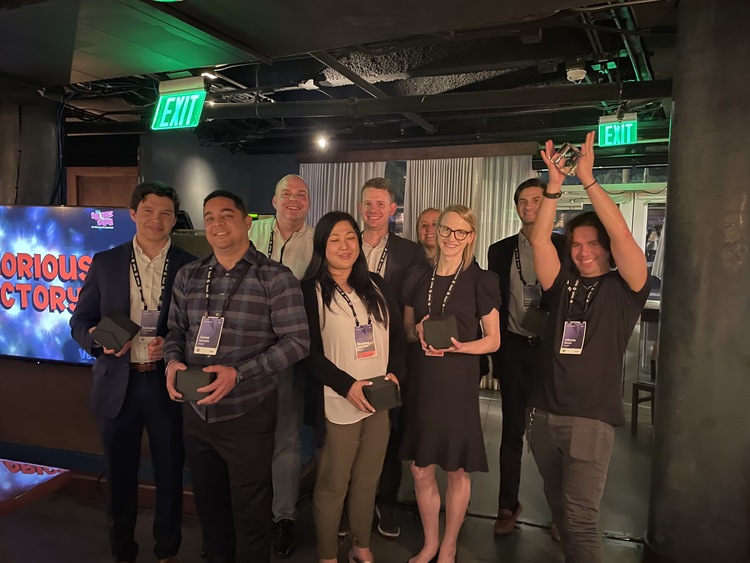 Nadig: I enjoy receiving questions, even when sometimes those questions are a little uncomfortable. That's been the point of a lot of the Future of Finance work — living in the real world, and asking the real questions. It's never been more important than it was through the Pandemic and re-opening recovery we're in now.
Rosenbluth: Just over a year ago, I began a content series called Chart of the Week that leveraged the advisor sentiment from our webcasts. Those webcasts have brought together hundreds of advisors with asset management experts
In the first piece, we revealed advisors' top concerns and then showcased a handful of ETFs that met their interest rate concerns. Subsequent pieces covered commodities, international equities, investment-grade corporate bonds, and so much more. VettaFi has its finger on the pulse of investor sentiment and can help connect the dots.
I'm also honored that within our first year, VettaFi won an ETF Express Award for Best Research Provider. That award recognizes the work all our Voices produce. I love reading content from Stacey on energy infrastructure, Roxanna on sectors and industries, Dave's future of finance, and Lara's rising ETF stars. This complements the editorial team's coverage of the news flow.
Islam: I have really enjoyed writing about electric vehicles since I helped initiate coverage on EVs at a previous job. I've followed it very closely for a while. I'll point to this note on legacy automakers vs. new entrants, one of my most discussed pieces. It describes what the EV industry (and EV ETFs) really look like "under the hood" (pun intended). The industry is not what many think it is since most of its progress has been led by Tesla and legacy automakers rather than some of these new hot companies that went public during the recent SPAC craze.
I also really liked this e-commerce note I wrote during the holiday season. I also followed e-commerce closely for years before I came into the ETF/indexing world. Plus, I like using data and visuals to attempt to clear up investor misconceptions. For example, I like this chart where I strip out volatile auto and gasoline sales. That shows how e-commerce has resumed its pattern of outpacing total retail sales earlier than many thought it did:
I'll add another one of my favorite charts from this past year. It shows that video streaming has been taking market share from movie theaters and cable/satellite. Some may find that obvious, but I thought it was cool to see the extent of that growth. I really enjoy using this type of data in notes because it's reliable, free data from .gov sites. VettaFi loves data — whether it's interesting consumer/investor trends data or our own proprietary advisor data.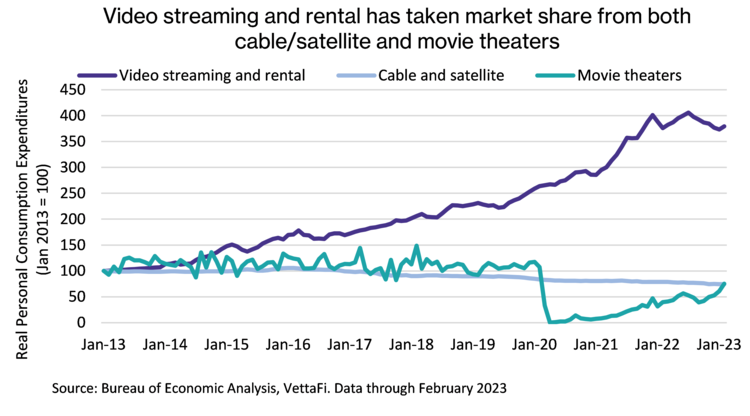 Rosenbluth: I also began a series of content this year tied to ETF providers and their stock exchange bell ringing. My goal was to both capture the celebrations, put some perspective on the funds the asset manager offers, and showcase the financial services community VettaFi was a key part of.
Islam: I love making visuals, so I could share a lot more favorites from this past year, but I'll pick just one more. This was a recent chart on crypto ETF launches/closures.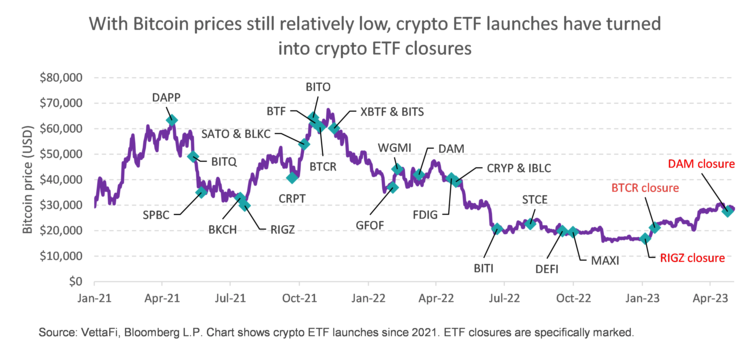 Rosenbluth: I love how Roxanna is posting informative charts, and I'm posting photos. In late 2022, VettaFi acquired Advisor Perspectives, a great website for advisors that goes beyond ETF investing. One of the popular content series has focused on economic and market-related charts. Jen, can you talk more about the series and what's changed since the companies came together?
Jen Nash, economic and market research analyst at VettaFi: In March, I began a weekly series called "It's The Economy That Matters," where I highlight the week's economic releases. Each week on Advisor Perspectives, I publish anywhere between 15-25 charts that are heavily detailed and full of data. The charts offer plenty of information and are one of the highlights of the Advisor Perspectives website. However, they can prove to be cumbersome for a reader that wants a brief overview.
Working with Todd, we decided to feature the three important economic releases on the Trends/DB sites in a weekly summary. The weekly series offers a condensed version of the charts where I highlight the main points and their broader impact. Find my latest post here.
Additionally, working with Todd and Lara, we're cross-publishing some of my charts from Advisor Perspectives  to the Trends/DB sites. It's exciting to see my content across the VettaFi platform and to bring it to a wider audience.
Islam: Just for fun, while I typically focus on sector/industry/thematic, my research can go beyond those boxes. I've enjoyed writing a couple of notes this past year on closed-end funds and "ETFs of closed-end funds":https://www.etftrends.com/portfolio-strategies-channel/latest-inflation-numbers-economy-that-matters/. They can play an important role, especially in the current interest rate environment. I worked as a research associate in closed-end funds until around early 2015. I never thought I would work with closed-end funds again until I joined Alerian (now VettaFi). So this has been nostalgic for me, and I love looking at areas beyond what I usually cover.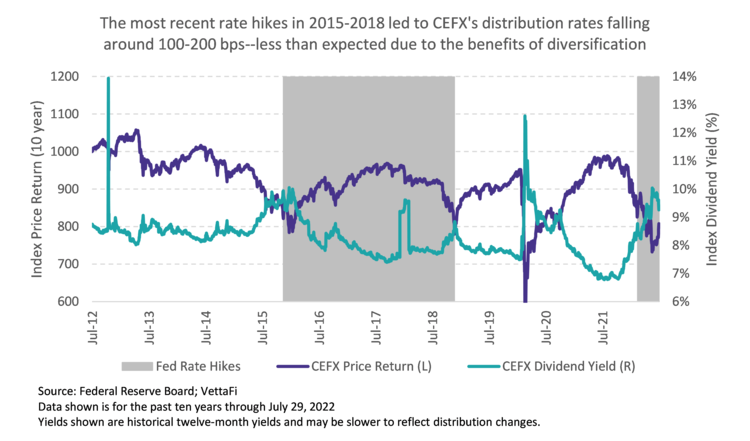 Stacey Morris, head of energy research: I really enjoy getting to collaborate with my colleagues on virtual events, energy indexes, and on energy infrastructure articles. From an energy research perspective, we're committing to providing regular, timely research on the energy infrastructure space. The MLP space can be complex. I work to make it a little easier for investors to understand. That means pieces explaining the tax benefits of MLP investing or discussing current developments like the recent ONEOK-Magellan transaction.
Rosenbluth: That expertise about all things energy has helped make our broader research content even better. This piece on commodity ETFs tapped into Stacey's insights, we prove VettaFi is definitely greater than the sum of our individual efforts.
I'll end with one final comment about the community. As people likely have seen through Linkedin or even reading this discussion, I take a lot of photos. Whether meeting with people or doing a webcast, I like to capture the moment. It amazes me how happy people are to be connected with us at VettaFi.
They say, "We see VettaFi everywhere. It's wonderful." For a one-year-old brand, that's a high compliment.
For more news, information, and analysis, visit VettaFi | ETFDB.