Artificial intelligence is the latest buzzword to become part of the ETF ecosystem. We believe there is tremendous potential to invest in companies like NVIDIA and Shopify that are benefiting from the long-term trend. But there's also an opportunity for advisors to tap into artificial intelligence to help them manage client assets. At VettaFi, we have seen strong interest in artificial intelligence-related ETFs across our various platforms. 
See more: AI State of Mind – Earnings Update
Last week, QRAFT AI ETFs expanded its product lineup with a new ETF. The QRAFT AI-Pilot U.S. Large Cap Dynamic Beta and Income ETF (AIDB ) uses artificial intelligence to actively manage whether the ETF should be invested in large cap equities or cash-like fixed income instruments. To celebrate the occasion, the Qraft Technologies team and many others, including VettaFi, were at the New York Stock Exchange (NYSE) to help open the market.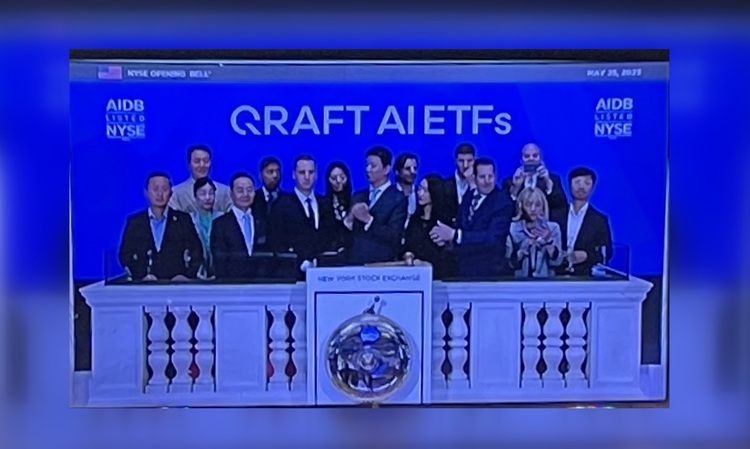 ---
Content continues below advertisement
"Through artificial intelligence, there is less emotional bias," explained Francis Geeseok Oh, APAC CEO of Qraft Technologies. "We could be wrong, but through technology, we make adjustments."  
An Artificial Intelligence-Based Momentum ETF is Working 
QRAFT launched its first ETFs in 2019, with the QRAFT AI Enhanced US Large Cap Momentum ETF (AMOM B) as its largest fund. Despite a strong track record, AMOM has just $11 million in assets. The fund was up 8.5% on a three-year annualized basis as of May 24, outperforming the iShares MSCI USA Momentum ETF (MTUM B+) by 250 basis points.  
MTUM's $9 billion in assets has been heavily weighted to health care (36% of assets) and energy (23%). However, the iShares ETF is rebalanced every six months. It will likely add more growth stocks at the end of the month. In contrast, AMOM, which can make changes monthly, has been investing in the recent market darlings. In mid-May, Meta Platforms, NVIDIA, and Walmart were AIDB's top positions in AMOM. 
"It can be a challenge to explain why by using artificial intelligence, we are choosing one stock over another," Geeseok Oh added. "With our new ETF, it is simple. Currently, there are signals that there is a low probability of downside risk." 
AIDB is using large-cap ETFs like the iShares Core S&P 500 ETF (IVV A) to gain equity exposure and was fully invested in equities upon launch. This is a good thing. Ringing the opening bell at the NYSE with a bearish view of the stock market would have been problematic. However, AIDB can shift weekly to a risk-off approach or back to a risk-on one.  
By dynamically shifting exposure from cash to equities with artificial intelligence, AIDB seeks to lower volatility. This will help advisors improve the end investor's experience. While an actively managed ETF based on artificial intelligence is only as good as its inputs, we think some advisors want to tap into unbiased expertise.  
For more news, information, and analysis, visit VettaFi | ETFDB.