Just over a year ago, DoubleLine entered the ETF market and in May 2023 doubled its lineup. The new products tap into the prominent active management firm's expertise. To celebrate the occasion, VettaFi joined DoubleLine executives at the New York Stock Exchange.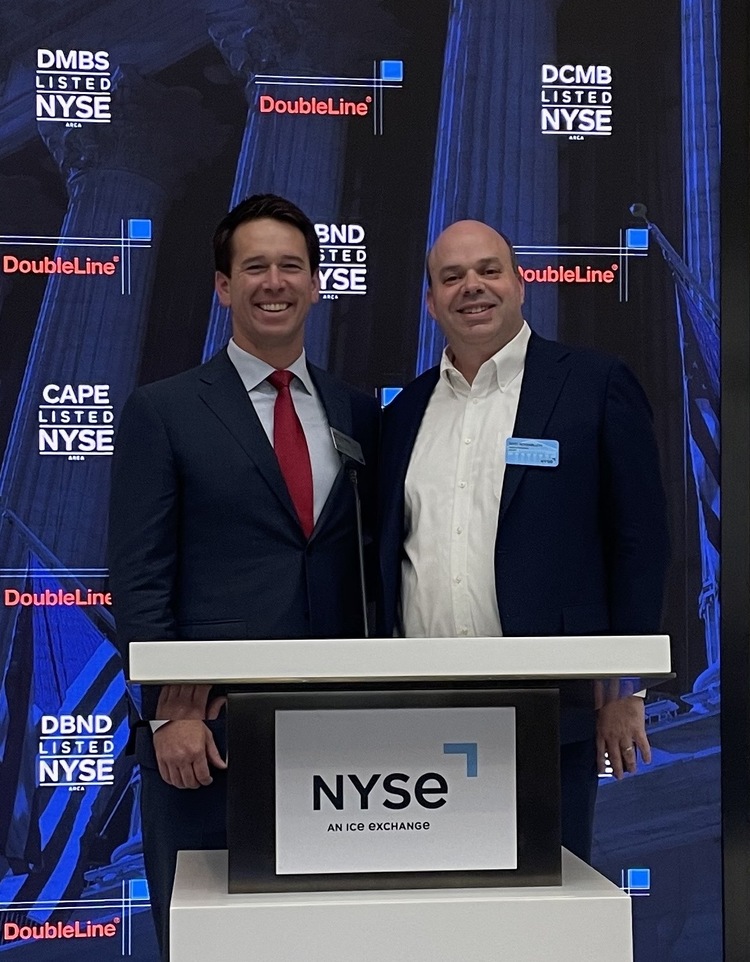 In March 2022, the (CAPE B+) and the (DBND ) began trading. DoubleLine's strategic partnership with Professor Robert J. Shiller is based on a shared philosophy toward value as an investment discipline. Professor Shiller pioneered research on long-term equity returns and market mis-pricings. The investment team behind CAPE seeks to identify undervalued sectors within the U.S. large-cap equity market based on a modified CAPE Ratio. Then uses a negative momentum factor in an effort to avoid value traps. 
CAPE was up 4.6% in the past 12 months ended May 26, approximately 600 basis points ahead of the (IWD A-). As of late May, CAPE and DBND gathered $400 million in assets. 
See More: NYSE ETF Leaders: DoubleLine's Jeffrey Sherman
"We started our efforts with the RIA community", explained Scott Thomson, an ETF Specialist at DoubleLine. "Our clients helped us transition the assets from seed to investors, build track records, and see trading volumes increase. This success allows us to start the next phase and bring DoubleLine's ETFs to the larger broker-dealer and bank platforms."  
---
Content continues below advertisement
DoubleLine Brings New ETFs to Market  
At the end of March 2023, DoubleLine also brought to the ETF market time-tested strategies focused on securitizations of commercial real estate credit and residential mortgages. The (DMBS A-) and the (DCMB A).  
According to Thomson, agency residential mortgage-backed securities (RMBS) historically have offered attractive risk-adjusted returns versus U.S. Treasury bonds or corporate securities. As the mortgage market evolved, the DoubleLine investment team has refined their loan-level analysis process to drive security selection and dynamically allocate within and between Agency and non-Agency RMBS seeking to achieve higher risk-adjusted returns versus passive mortgage investments. DMBS already gathered $50 million in assets. 
The First Active Commercial Real Estate Bond ETF  
DoubleLine also views the commercial real estate debt sector as a diversifier from corporate credit risk. Per Thomson, investment grade commercial real estate debt has structural enhancements that provide attractive relative values. DCMB, which is the first ETF of its kind, recently managed $26 million in assets. 
"Given the broader challenges in select commercial real estate subsectors, regions and property types, active management can be vital to investors seeking income, capital preservation and long-term appreciation," noted Thomson.  
DoubleLine has been part of the ETF ecosystem for nearly a decade, serving as a sub-advisor for State Street Global Advisors ETFs. For example, the (TOTL B+) launched in 2015 and has approximately $3 billion in assets.  
"At DoubleLine, we have the experience and expertise to successfully utilize that flexibility, a latitude afforded by actively managed ETFs", said Thomson.   
VettaFi expects demand for active ETFs to grow. Managers like DoubleLine can have success if advisor education about their offerings accelerates.  
For more news, information, and analysis, visit VettaFi | ETFdb.