In this edition, VettaFi CMO Jon Fee sits down with Broadridge CMO Dipti Kachru. The role of the chief marketing officer (CMO) has evolved as companies digitally transform, embrace the power of brand, and lean into data-driven behavioral insights to drive client growth and satisfaction. No longer is the role merely "colors and fonts" or "clever copy." Today, a CMO sits at the intersection of most functions within an enterprise. Their responsibilities span pipeline, business development, sales automation, and even community-building. As a result, successful CMOs must embrace change while remaining close to both customer and product.
Dipti Kachru has a proven record of leading multi-disciplinary marketing teams in launching new businesses, designing integrated go-to-market strategies that shape brands and deliver on sales goals, and instilling a culture of excellence, innovation, and flawless execution. Prior to Broadridge, Kachru was the CMO at J.P. Morgan Wealth Management and the affluent business at Chase. She also spent many years in asset management at J.P. Morgan and OppenheimerFunds, and is a Columbia University graduate.
Jon Fee: I like to kick things off by talking about jobs. What is your dream job? Aside from being a CMO, of course.
Dipti Kachru: Don't ask me whether CMO of Broadridge is or is not my dream job. That' I refuse to answer. I plead the fifth.
Fee: [Laughing] We'll leave CMO out of it.
Kachru: You don't have to because the reality is that being a CMO is the closest I have been to having a dream job. I love how it brings together art, science, data, and technology to solve business problems.
I think the other ingredients of any dream job for me is working with scale and complexity. I love looking at the world from different perspectives. I love building and I love problem-solving! But it's not just about the process. At the end of the day, for me the essential ingredient of a dream job is being able to have impact – business growth, a stronger marketing function, a more fulfilled team.
---
Content continues below advertisement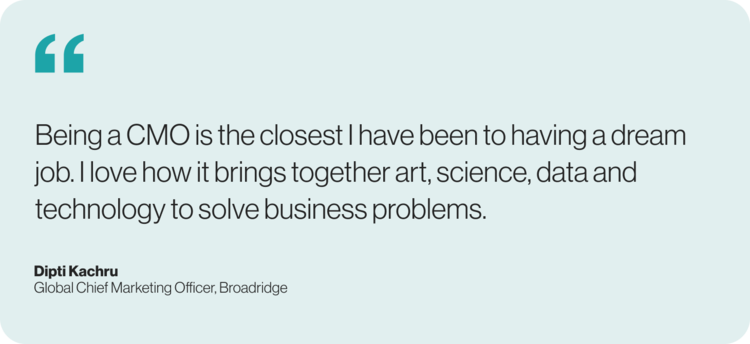 Dipti Kachru On Her First Marketing Job
Fee: Awesome. What was your first job in marketing?
Kachru: My first job in marketing was working for a promotional marketing agency in India at a time when the Indian economy was opening up to global brands. This was the early days of digital where Marketing primarily entailed traditional advertising or "below-the-line" promotional and event marketing. This is where I really learnt what it meant to be a marketer – understanding the business strategy, learning how to soak in customer insight, how various channels of marketing drove different outcomes. It was an incredible training ground. We were a start-up agency and so I got to wear multiple hats from operations to strategy and worked on some of the best brand in the world helping them re-orient their marketing strategy to a vibrant market like India.
Pets and Pet Peeves
Fee: The next question is do you have any pets? What are your pet peeves?
Kachru: No pets, but I do have two kids who keep me on my toes. That said, my daughter is actively petitioning, more like harassing, us for a dog.
When it comes to pet peeves it's usually about specific work cultures & mindsets. For e.g. work cultures that don't embrace a growth mindset — where people think they already have all the answers – and rely too much on past performance versus being more open to outside in thinking.
The second pet peeve is selfish, self-promotional attitudes. I am really big on operating as tribe where it's about aligning around a purpose larger than any one person's role or agenda. We only win when we win as a team – so the egos need to have to be left at the door.
Jon Fee: Yeah, that makes a lot of sense. We're definitely, I think, at a place in the world where it matters to have an idea of where we're going collectively. I think that's a really smart answer. What's one thing you can point to – and this can be a book, it could be a person, it could be any experience you have had – that has played the greatest role in shaping your leadership style?
Kachru: I don't know if there's one thing. I truly believe that I'm the sum of my experiences and I continue to evolve based on those experiences.
I try to be a sponge, and learn from everything I read and listen to. I particularly enjoy podcasts featuring CMOs as you get to hear their thinking and how they are building world-class teams and cultures while strengthening the role of marketing in the business.
As for people who have influenced me, I have been lucky to work at some amazing organizations with a talent bench of leaders, especially some incredible female leaders. One of the most talented CMOs I know, who is now CEO of a wealth management business, really helped me broaden my thinking on the role of marketing beyond the traditional lines – and to see it as business strategy and growth function.
I have learned the most by seeing leaders in action. One who had a meaningful impact on me was Thasunda Duckett, currently the CEO of TIAA, who showed me the power of empathy and inclusion in galvanizing teams and rallying around a purpose.
Dipti Kachru On the Rare CMO to CEO Career Path
Jon Fee: Why do you think the CMO to CEO pivot is rarer than maybe some of the other C-suite pivots? And do you think that that is maybe a lost opportunity?
Kachru: It's an absolute lost opportunity. The data tells you that very few CMOs end up being CEOs. CEOs tend to come from finance, business or sales. And this is because traditionally, the role of marketing was designed around brand building, storytelling, and sales enablement — they weren't seen as a proven lever of growth. But with modern marketing and improved use and data and technology, that is changing.
B2C organizations for years have recognized marketing a growth driver. B2B is still getting there. There is growing recognition now of the CMO beyond the classical MarComm function or the customer advocate, rather a leader uniquely suited to connect product, sales, finance, technology and business strategy and orchestrate a more coordinate go-to-market to help drive growth.  I think this acknowledgmen and proven track record of the modern CMO will help set them up more CEO roles.
Jon Fee: I always think it's interesting how marketing runs through an entire organization. You can't tell the story without knowing the character, right?
Kachru: Indeed. And by understanding the role of the character today and in the future – you can establish a vision and value proposition that can be sustained.
Digital Transformation
Jon Fee: That makes a lot of sense, and in speaking of how you get there and where the setting of this story now occurs. More than ever, it's digital. So, we're going to go on to the next topic, which is digital transformation. Can you define digital transformation without using the word 'digital' or 'transformation.'
Kachru: For me, it's about better serving your customers where they are, and how they want to be served. That's the heart of it. Digital is an enabler; transformation is a necessity of evolution. But at the heart of it, it's about meeting and ideally exceeding customer expectations.
Kachru Peers Into the Crystal Ball
Jon Fee: Makes a ton of sense to me. Let's do the dangerous question now and dip into the crystal ball. And you will be held totally to account if you're right or wrong here. So be ready for that, the people in the future will look back on this interview.
Kachru: [Laughs.] For context, this interview won't be published for a few months, so I'm predicting the future from a point in the past.
Jon Fee: So what is your prediction for marketing and marketers? What's coming next in the one to five years out range? What's going to be the next big thing that we all must be wrapping our brains around?
Kachru: As I have mentioned in this conversation, I truly believe that the role of marketing will evolve, more universally, to be that of a growth driver. That's my prediction. The Marketer will continue to have a growing voice at the table especially when brands and organizations are trying to find and hold on to their differentiation in a rapidly evolving marketplace.
Marketers were always recognized for their contribution to building brands, amplifying messages, and being a customer advocate. But with better access to data and analytics, marketing can prove their value – show real revenue attribution for their efforts. Similarly, our ability to orchestrate targeted digital experiences give us a greater role in driving the sales process and delivering measurable outcomes. This clarity in our contribution will unlock an appetite to invest more in marketing – which is needed especially when it comes to data and tech infrastructure. I am excited about this dynamic and this maturity in the role of the marketer as critical in driving business growth. By the way, this also means that as marketers, we need to work hard to deliver on this promise.
The Art of the Story
Jon Fee: I would love to hear your thoughts about why brands story matter and what brands do that they usually get wrong in terms of how they present their story?
Kachru: Well, that's a loaded question. Why do brand stories matter? I think as human beings, whether you're a B2C or B2B brand, you're still selling to human beings. And purchase behavior isn't just rational – emotional association with the brand often tips the scale, especially when the products are largely undifferentiated. At the end of the day, it's about establishing a strong relationship with the customer – and this is where authentic brand stories come in. It's how consumers understand the brand, its purpose, and its promise.
What do brands get wrong? I see two things often – One, companies get caught up in the opinions of senior leaders vs. deeply listening and incorporating the customer insight. The core elements of their brand and story are shaped by individual reactions and opinions, and the real customer insight gets lost.
The second is brands that tend to hold on to the past glory and miss the opportunity to evolve with their customers. Stories need to be authentic, but its form and distribution channel needs to change. Static brands tend to fade away and brands that deeply understand who they are but can evolve their narrative with the evolution of the landscape, I think, tend to succeed.
Parting Gift
Jon Fee: That's a really smart answer. I like that a lot. For the final one, we're just going to do a parting gift. Can you share with us an album, book, movie, TV series, podcast, or other creative work that brings you joy right now? And what is it about this creative work that fires you up?
Kachru: What I love about marketing is this mix of emotional and rational …art and science. And that is often reflected in what I tend to read or listen. I try and feed both sides of the brain. For me, the rational is often listening to CMO podcasts, because they offer very real insights and advice on how they approach real challenges and how they drive outcome. I find the thinking and ideas very inspiring, and it make me feel less alone in my mission.
On the art side, I absolutely love strong storytelling and it usually has nothing to do with business or marketing. For example, I love the Moth podcast. I love texture the Moth brings out — the humanity, the heart, the joy, the heartbreak – all the things that make us human.  There's been plenty of times on my commute that I've shed a tear while listening or smiled purely because of a story someone's narrated. I have no idea who this person is, where this person comes from, but there's a connection that comes through and it reminds me of the power of words. It reminds me of the value of storytelling, and the privilege we have as marketers to tell powerful stories for our brands.
For more news, information, and analysis, visit VettaFi | ETFDB.