The acronym "HIPS" stands for high-income pass-through securities. These are securities that must "pass through" at least 90% of their earnings to investors. As a result of the earnings pass-through, these entities are not subject to corporate taxation.
Examples of pass-through instruments and their definitions are explained below: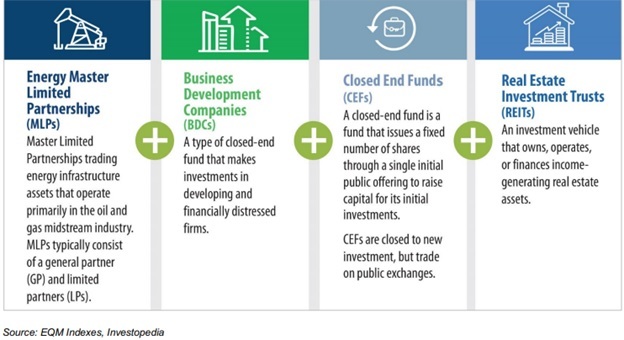 ---
Content continues below advertisement
Although each category of pass-through securities has its own advantages, there are significant diversification benefits in putting them together, because historically, their returns are uncorrelated, and they are uncorrelated with other asset classes. In addition, these alternative income classes perform differently in different economic cycles, as depicted in the image below.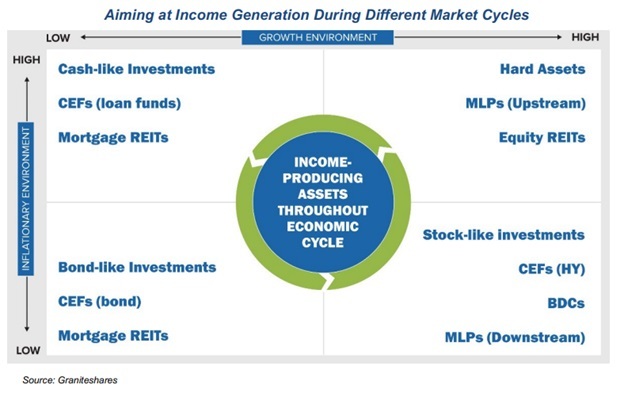 A basket of pass-through securities can help provide a diversified source of alternative income. At the same time, it can increase the predictability of this income and reduce the overall risk.
As of September 30, 2023, assuming a perfect statistical correlation equals 1.0, the index had a one-year correlation of 0.77 with the market (S&P 500 Index), only 0.18 versus aggregate bonds (Barclays Aggregate Bond Index) and 0.68 with high yield (iBoxx High Yield Index), Besides providing diversification in a portfolio, the index also provides an attractive yield of 10.24%.
Index Construction 
The Index consists of 40 securities selected annually on the basis of high yield and low volatility. The methodology then equally weights the four high-income pass-through income categories: MLPs, BDCs, CEFs, and REITs.  The index component weights are rebalanced each quarter.
More details about the index construction and the investment case are available in the white paper linked here.
Bottom Line for High-Income Pass-Through Securities
Coming off of some of the worst fixed income performance in 40 years, due to an aggressive Fed tightening cycle targeting inflation, the EQM High Income Pass-Through Securities Index (HIPSTR) and the (HIPS B) that tracks it, provides exposure to a diversified blend of high-income-producing securities paying a monthly dividend yield of over 10% without the use of options overlay or leverage.
Read More: Examining Midstream/MLP Dividend Growth by Company
Each of the HIPS asset categories are attractive by themselves and tend to perform differently over time. However, this equal-weighted blend of MLPs, BDCs, CEFs, and REITs could provide investors a consistent source of uncorrelated alternative high income.
HIPSTR is the underlying index for HIPS, the ETF.
EQM Indexes is owned by VettaFi LLC ("VettaFi"). EQM Indexes is the index provider for HIPS, for which it receives an index licensing fee. However, HIPS is not issued, sponsored, endorsed, or sold by VettaFi, and VettaFi has no obligation or liability in connection with the issuance, administration, marketing, or trading of HIPS.
For more news, information, and analysis, visit VettaFi | ETFDB.