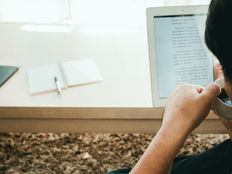 Every week, we bring you the best and most succinct curation of must-read articles to help you grow your investment advisory practice. More than a dozen hours of weekly reading by industry veteran Kristan Wojnar boils down to these three non-negotiables for your reading list. Want to grow your practice? Bookmark our Practice Management center and make these pieces a weekly staple.
This week we are taking a look at the themes of retirement planning, defining a business vision for your practice, and building trust with clients and prospects. Our first piece takes a unique look at retirement planning. It challenges advisors to help their clients find 'meaning' instead of just 'money' when it comes to their retirement plan. Our next piece encourages advisors to transform their businesses with a clearly defined business vision. And our final piece this week provides quick tips to continually build trust with clients.
Are you helping your clients to find meaning in their retirement planning? Listen to this podcast that focuses on understanding your clients' stories and uncovering what retirement really means to them.
Two-thirds of advisors say that they aren't on track to realize their business vision. This author provides four ways to redefine your business vision.
This short video is a great reminder of three quick ways to establish trust with clients and prospects.
Happy reading, and talk to you next week when we'll bring more of the best tools and tactics to outperform your peers and grow your business.
---
Content continues below advertisement