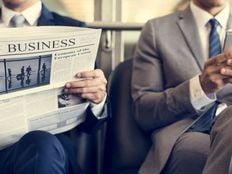 Every week, we bring you the best and most succinct curation of must-read articles to help you grow your investment advisory practice. More than a dozen hours of weekly reading by industry veteran Kristan Wojnar boils down to these three non-negotiables for your reading list. Want to grow your practice? Bookmark our Practice Management center and make these pieces a weekly staple.
Our themes this week focus on what to do when the grass isn't greener on the other side, how to stand out as an advisor on Twitter and whether your health is relevant to your success as a financial advisor. First up is an excellent read that offers tips for when you realize the new firm you moved to isn't quite what you expected. Second, we look at a great piece that offers daily, monthly and quarterly tips on how to best use Twitter as a financial advisor. And our final piece gets you thinking about why your physical health is imperative to being a successful financial advisor.
Have you recently made a switch to a new firm and think you made a mistake? This piece offers interesting insights to reflect upon if you may be regretting your decision.
Before you dive into tweeting, consider developing a Twitter strategy for your practice. Check out this article for simple suggestions to implement right away to be a successful advisor on Twitter.
This author suggests your physical health contributes to your success as a financial advisor. Read this piece to learn why.
Happy reading, and talk to you next week when we'll bring more of the best tools and tactics to outperform your peers and grow your business.
---
Content continues below advertisement