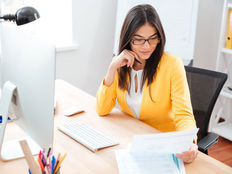 Every week, we bring you the best and most succinct curation of must-read articles to help you grow your investment advisory practice. More than a dozen hours of weekly reading by industry veteran Kristan Wojnar boils down to these three non-negotiables for your reading list. Want to grow your practice? Bookmark our Practice Management center and make these pieces a weekly staple.
Our content this week focuses on client experience, content marketing and building trust with prospects. First, we look at a piece that highlights ways to instantly personalize your client experiences. Next up is a piece that provides suggestions on engaging your clients through a solid content management marketing strategy. And finally, we have a piece that looks at speaking the language of trust to build genuine trust with prospects who are skeptics.
Consider incorporating these five questions to help you in personalizing your client experiences.
Do you have a thoughtful content management strategy? Here are some ideas to help you focus on content marketing that your clients care about.
Building trust is key with prospects that may be skeptical. Take a look at these tips to help you in speaking the language of trust.
Happy reading, and talk to you next week when we'll bring more of the best tools and tactics to outperform your peers and grow your business.
---
Content continues below advertisement