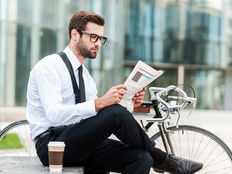 Every week, we bring you the best and most succinct curation of must-read articles to help you grow your investment advisory practice. More than a dozen hours of weekly reading by industry veteran Kristan Wojnar boils down to these three non-negotiables for your reading list. Want to grow your practice? Bookmark our Practice Management center and make these pieces a weekly staple.
We are looking at three very different, yet very important, subjects to your practice this week. First, we highlight a piece that focuses on helping your clients age with a purpose. This piece might encourage you to think differently about retirement and how your clients and prospects define it. Next, we look at a piece that you will want to read if you have been considering going independent. The author really gets you thinking about the best place you can serve your clients while also controlling your career. Our third and final piece provides some tips to assist you when your female clients indicate that they might not be interested in getting involved in financial discussions.
Help your clients age with purpose. This is a great podcast to get you thinking differently about retirement and helping your clients and prospects redefine it.
Have you been considering going independent? Here's a great read to think about the best place for you to serve your clients, as well as your career.
Take a look at these tips to help you when you are told that your female client(s) aren't interested in being involved in the finances.
Happy reading, and talk to you next week when we'll bring more of the best tools and tactics to outperform your peers and grow your business.
---
Content continues below advertisement