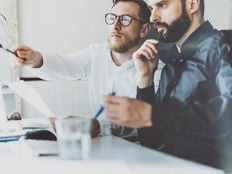 Every week, we bring you the best and most succinct curation of must-read articles to help you grow your investment advisory practice. More than a dozen hours of weekly reading by industry veteran Kristan Wojnar boils down to these three non-negotiables for your reading list. Want to grow your practice? Bookmark our practice management center and make these pieces a weekly staple.
This week we concentrate on the themes of metrics of trust, helping clients visualize their retirement and should you stay or should you go? Up first is a piece that takes a critical look at elements that measure your clients' trust. Next is a piece that provides you with insights of helping your clients visualize what their retirement will look like. And our final piece this week highlights what you should understand before you decide if you should stay or move to a new broker/dealer.
Trust is key in every client and prospect relationship. Look at these metrics of trust. How do you measure up?
Help your clients visualize their retirement by shifting their focus from money to envisioning what they want to actually do in their retirement.
Should you stay or should you go? Factors every advisors should understand before they decide to make a move.
Happy reading, and talk to you next week when we'll bring more of the best tools and tactics to outperform your peers and grow your business.
---
Content continues below advertisement