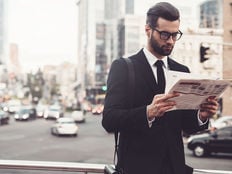 Every week, we bring you the best and most succinct curation of must-read articles to help you grow your investment advisory practice. More than a dozen hours of weekly reading by industry veteran Kristan Wojnar boils down to these three non-negotiables for your reading list. Want to grow your practice? Bookmark our practice management center and make these pieces a weekly staple.
This week we are looking at the topics of advisor happiness, letting your clients do the talking and discussing fees with your clients. Our first piece may be an opportunity for self-reflection for you. Are you happy as a financial advisor? This piece highlights suggestions to find happiness in your work. Next up, we take a look at a piece that focuses on the importance of letting your clients do the majority of the talking in your meetings. Our final piece this week tackles the ever-important issue of talking fees with your clients. This piece suggests steps for successful conversations about fees.
Are you truly happy as a financial advisor? Here are three suggested components to finding ultimate advisor happiness.
Do you let your clients talk 95 percent of the time? Here's some insight straight from an advisor who decided to make a change in his approach and let his clients have the floor.
How do you approach talking about fees with your clients? Take a look at these five steps to navigating fee conversations with your clients and prospects.
Happy reading, and talk to you next week when we'll bring more of the best tools and tactics to outperform your peers and grow your business.
---
Content continues below advertisement