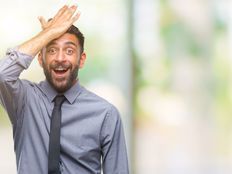 Every week, we bring you the best and most succinct curation of must-read articles to help you grow your investment advisory practice. More than a dozen hours of weekly reading by industry veteran Kristan Wojnar boils down to these three non-negotiables for your reading list. Want to grow your practice? Bookmark our Practice Management center and make these pieces a weekly staple.
This week we are taking a look at three excellent reads. First up is a piece that addresses advisor LinkedIn accounts that have been restricted and what to do if yours has been affected. Next, we have a piece which overviews what some advisors wish they could've done differently when they started their advisory business. Finally, we have a piece that addresses frequent mistakes found on financial advisor websites.
Has your LinkedIn account been restricted? If it has, here's a quick read about what steps to take to get your account reinstated.
Do you ever wonder what your peers wish they could do differently in their businesses? Here's a great summary of which areas of their businesses other advisors wish they could push the "redo" button on.
Are you making any of these mistakes on your business website? Read on for the most common mistakes advisors make on their websites.
Be sure to check out our News section to keep track of the latest news on ETFs.
---
Content continues below advertisement