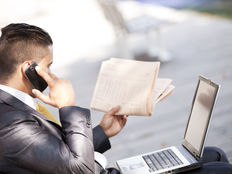 Every week, we bring you the best and most succinct curation of must-read articles to help you grow your investment advisory practice. More than a dozen hours of weekly reading by industry veteran Kristan Wojnar boils down to these three non-negotiables for your reading list. Want to grow your practice? Bookmark our Practice Management center and make these pieces a weekly staple.
We are looking at the topics of the five money languages, streamlining your business plan and website security this week. First, we have an interesting read that suggests there are five money languages that you need to speak as a financial advisor. Next, we have a piece that overviews creating a streamlined business plan. Our final piece this week looks at ways to nurture your digital leads.
This is an excellent read about using the right language to connect with your clients. Research shows there are five money languages. Read on to learn more!
Do you truly have an effective business plan? Check this piece out for 5 ways to streamline your business plan.
Is your advisory website protected? This piece provides useful tips to protect your site from being hacked.
Happy reading, and talk to you next week when we'll bring more of the best tools and tactics to outperform your peers and grow your business.
---
Content continues below advertisement