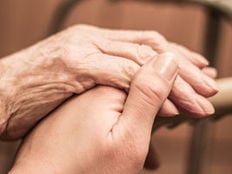 Your clients with aging parents urgently need you.
Did you know the number of adult children caring for elderly parents has tripled over the past 15 years?
The demands that go along with caring for aging parents are high, especially for women who comprise about 60 percent of those caregivers.
While aging parents certainly never want to be a burden to their adult children, unfortunately, sometimes it happens without their intention.
Clients who are caring for their aging parents are often still raising children of their own in addition to managing their career. They are often overwhelmed by gradual or sudden changes to their aging parents' health. Not only are emotions running high during this difficult life transition, there are significant financial and legal issues to address as well.
In most cases, they don't know who to turn to for advice. You, as their trusted financial advisor, can be an extraordinary resource to them for support.
Financial Planning for Your Clients' Parents
First and foremost, if your clients' parents do not have an advisor of their own, offer your services to help them create a financial plan, including their retirement income strategy, investment strategy and estate planning.
If they already have a financial advisor, advise your clients to meet with their parents' advisor regularly, as well as offer them a checklist of things to review to assist them.
Remind them to be sure they have contact information for all of their parents' professional advisors. Encourage them not to go alone, but to instead enlist help from siblings and other loved ones.
Advise them to be sure to have access to a current will, durable power of attorney (both financial and medical) and living trust with the adult child's name as the trustee. They will also need to access Social Security information, medical directives, insurance policies, tax returns, and bank and credit card statements.
---
Content continues below advertisement
Ensure Their Finances Are in Order
While you certainly don't want to add stress to their life if they are in a crisis mode, a critical conversation to have with your adult-children clients is to ensure their own finances are in order as well.
Do they plan on assisting their aging parents at all financially? If so, does their current financial plan include assisting their parents?
While this may be a tough conversation, their financial security is your priority. Help to prepare your clients to prevent any financial and legal disasters.
Additional Support
Aside from financial and estate planning needs, your adult-children clients will need additional resources. Caring for the multiple needs of aging parents can be both physically and emotionally depleting.
Your clients may be helping to manage everything from arranging or providing transportation to doctor appointments for their parents, handling medication, meal preparation and cleaning, among numerous other tasks.
Caregiving can be a full-time job, in addition to all of their other responsibilities. They might need help finding a caregiver, as well as assistance in knowing the right questions to ask when interviewing potential candidates. For example, have background checks been run on the caregivers to ensure they haven't been charged with previous abuse or neglect? If there is more than one caregiver coming into the house, how will the responsibilities be divided and how will any potential social dynamics be managed? Do the caregivers have experience with the specific health issues their parents have?
There are a lot of issues to consider when deciding on caregiving. Coach them to become educated on the various home-care options, as well as assisted-living communities, especially if they don't live locally and can't assist their parents themselves.
Resources
There are many senior assistance programs that may be available locally to them such as meal delivery programs, transportation and shopping services, to name a few.
Many of these resources are government programs. Encourage them to check out eldercare.gov for a full list of assistance programs and services. You may want to do the research yourself and forward them names and contact information for what's available locally to help them.
Also encourage them to find support groups that can help them connect with others in a similar situation. It helps to talk to others who understand the challenges they are dealing with. They need to remember to take time for themselves to avoid the psychological impact of caregiving or assisting with caregiving, such as burnout, depression and anxiety.
Bottom Line
The stresses of the so-called "sandwich generation" are very real. Caring for both their own children and their aging parents is challenging.
Every family is different and so are their needs. While they may not specifically ask for your help, offering your services and support to your adult-children clients is vital, and your efforts will be greatly appreciated.