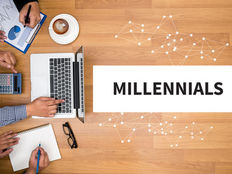 Strategies to help you deepen relationships with the next generation.
You've worked hard to build wealth for your current clients. Is your desire to keep those assets in the family? If the answer is yes, then connecting with and deepening relationships with your current clients' Millennial children and grandchildren is key, as well as attracting new Millennial clients and prospects.
With the greatest transfer of wealth in American history starting now and continuing for the next 30 to 40 years, and the fact that only two percent of adult children keep their inheritances with their parents' advisor, deepening relationships with Millennials truly is an aspect of your business that cannot be ignored.
The Millennial generation, who incidentally does not like being referred to as Millennials, have officially replaced the Baby Boomers as the largest living generation. According to Pew Research Center, there are 75.4 million living Millennials and they are officially the largest generation currently in the American workforce.
Who Are The Millennials?
Born in the late 80s to 2000 and aged 18 to 34, Millennials are well educated and expected to control assets of up to $24 trillion by 2020, according to Deloitte.
A report from American Portfolios indicates they lack trust with financial advisors, save their money in cash, prioritize short-term spending over long-term saving and carry considerable debt from college loans.
Millennials have lived through the Internet bubble burst, as well as the 2008 economic crisis. Likely as a result of this, they are generally more conservative investors, as well as risk averse. Despite it all, they still have a high level of confidence in the future economic growth of the country and, even better news for you, research from Wells Fargo indicates they prefer to work one-on-one with an advisor.
Millennials are digital minded, always connected and you might say Internet obsessed. They are used to immediate information. Said simply, if you want to connect with Millennials you need to live where Millennials live – and that is online.
---
Content continues below advertisement
Does Your Practice Speak to Millennials?
Unfortunately, simply having a website doesn't cut it when it comes to this generation. And your firm's name or perceived prestigious brand doesn't impress them as it may have with past generations. Millennials also don't care much about your sleek brochures that are printed on thick, shiny paper.
Here's What Does Matter to Millennials
Timeliness and ease of accessibility of information on your website
Your social media presence
Flexibility
Timeliness and accessibility of information
You should routinely post timely information on your site that is more than just the latest report issued by your firm. Do you currently have a blog? This is a great way to stay timely.
Be sure your web content is concise and to the point. Consider using infographics to succinctly and creatively convey content on your website, as well as have files that are easily downloadable for Millennial users. You also should be sure your website is optimized for mobile device use, as Millennials use their smartphones more than their computers. Chances are, if your website isn't mobile responsive, you'll lose them.
It may be a good idea to consider developing a microsite that is within your current website specifically devoted to your Millennial clients and prospects.
Remember because this generation is digitally native, they will spend significant time researching you and your firm on your site. They will have generally done their homework before they meet with you and they will come prepared with questions.
Social media presence
Millennials use their social networks for making purchase decisions and trust their social networks for referrals. Your goal should be to create an online community with Millennials in which they can actively participate. Research from Linkedin and Ipsos indicates affluent Millennials will share financial content 13 times more than all other LinkedIn users. Consider sharing curated content to get their attention, including both industry and non-industry articles, books, blogs, white papers and videos. (Of course, be sure to follow your firm's compliance guidelines as to what you can and can't post or share.)
Keep in mind that first impressions with Millennial prospects may come from your social media pages. Take the proper time to craft your LinkedIn profile page. Does it just state your credentials or does it tell the story of who you are as an advisor and as a person? Include information about yourself and your hobbies, as these provide you with more opportunities to make a connection with them. Also, even though it might be out of your comfort zone, it's wise to take the time to become active in multiple social media vehicles and not just LinkedIn. Millennials actively use Facebook, Twitter, Pinterest and Instagram. You can use a source like HootSuite to help you post to multiple social media vehicles at once. HootSuite also just recently launched HootSuite Advisor, specifically designed to help advisors use social media more efficiently, while staying in compliance.
It may be a wise investment to hire a social media consultant to help you, and an even wiser decision to hire a social media consultant who is a Millennial!
Flexibility
This generation tends to change jobs frequently, is not necessarily loyal to their employers and typically doesn't work the traditional 9-to-5 job. A report by Millennial Branding found that 45 percent of Millennials will actually choose workplace flexibility over pay. So it's pretty safe to say Millennials thrive on flexibility. What this means to you is that you will likely need to have alternative times you are available to talk to and meet with Millennial clients and prospects. You also need to be accessible by email and text. Conducting meetings via Skype will offer flexibility and convenience.
Not Sure Where to Start?
Consider beginning by conducting client appreciation events for your current clients and ask them to bring their Millennial children and grandchildren. Talk to them about money concepts, including helping them to pay down college and credit card debt, as well as helping them with saving for both the long term and short term.
Bottom Line
As with working with any particular market segment, don't assume "one size fits all" when it comes to Millennials. While you need to keep their common attributes in mind, also remember that you want to look at them as individuals. You may want to consider adding a Millennial advisor or marketing associate to your team. Younger team members may help you to attract Millennial clients and prospects, as well as help you navigate how to adjust your practice to deepen your Millennial client and prospect relationships.